SOLD Antique Mother-of-Pearl Jerusalem Icon St George Killing The Dragon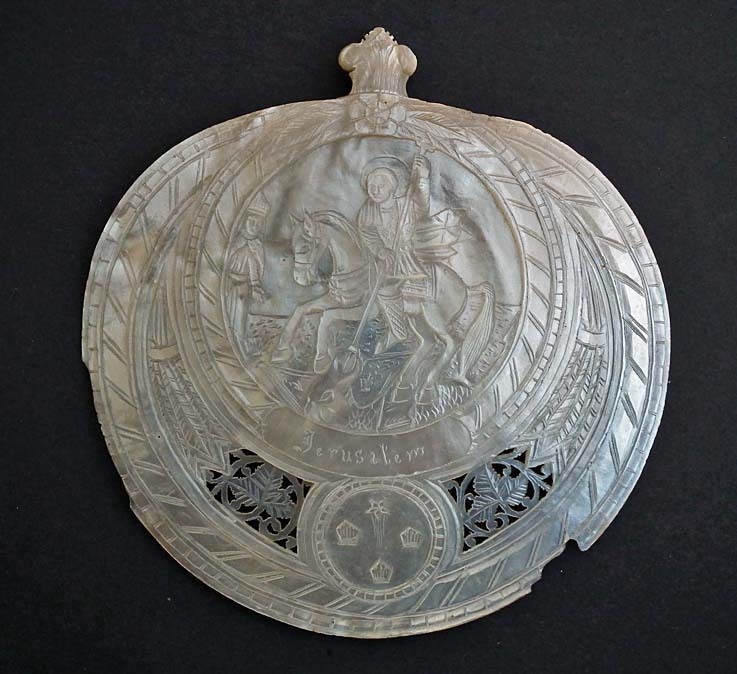 SOLD Antique, 19th century Mother-of-Pearl Shell Carvings, Palestinian Jerusalem Christian Icon of convex oval form, finely hand carved in low relief with a central raised medallion depicting St George killing the dragon, the border is engraved "Jerusalem with a circular medallion below enclosed by three crowns and a star above which symbolizes the Three Kings and The Star of Bethlehem, and surrounded with pierced floral adornment.

Shells such as these were sold to Christian pilgrims in Jerusalem and Bethlehem, where they were carved in relief and pierced by hand by local Palestinian
craftsmen. In this way, the shells found their way to Europe and elsewhere during the nineteenth century. Orthodox pilgrims from Russia also carried
significant numbers back to Russia and so today the Hermitage Museum in St Petersburg has an important collection of such shells and other items manufactured in Palestine from the shells. Many of these were transferred from the Winter Palace and the domestic chapels of other Imperials palaces - they seem to have been presented to the royal family by pilgrims returning from the Holy Land. The Vatican Museum also holds related mother-of-pearl Christian items from the same source.




REFERENCES:
1. CHRISTIAN IN THE HOLY LAND – "The Art Of Melchites And Other Denominations Of Orthodox Church" Saint Petersburg 1998.
2. El Arte Palestino de Tallar el Nacar by Fabián Jiménez.
3. Pilgrim Treasures from the Hermitage: Byzantium - Jerusalem: Lund Humphries.

Comparable Mother of Pearl medallions are in the collection of The State Hermitage Museum in Saint Petersburg, Museo Oceanografico di Monaco, and in, The Sergiev Posad State History and Art Museum.

CONDITION: border chipped. Free of cracks, repairs, or restorations.

MEASUREMENTS: He: 12 cm x 12 cm (4.72 inches X 4.72inches)

Due to the shiny surface of the Mother-of-Pearl, it is difficult to photograph. The pictures do not show the exquisite details of the carving, or the actual sparkling pearl color of the surface.