SOLD Antique Moroccan Islamic Dagger Jambiya Koummaya in Silver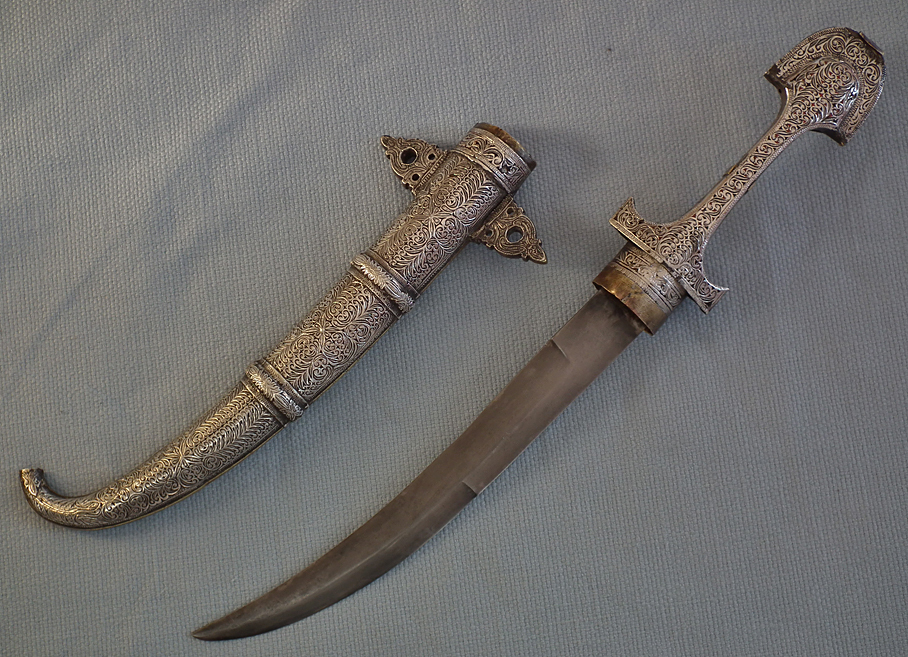 SOLD Authentic Antique, 19th century, Moroccan Islamic dagger, Jambiya -Koummaya, of elegant form with waisted grip and peacock pommel. The outer face of the hilt and the scabbard are of elaborately chased, and enameled, with scrollwork, in thick silver, on a brass background, with a good quality, hand forged, curved double-edged steel blade.

REFERENCES:
A similar Moroccan Jambiya from the collection of the Paris, Musée de l'Armée is published in the book Islam. Les armes blanches de l'Atlantique à l'Indus. By Alain Jacob Page: 10.
Les armes blanches du monde islamique : Les armes de poing by Alain Jacob. Page: 55.

The buyer will be provided with a copy of the page from the mentioned reference, together with a certificate of authenticity.

CONDITION: in very good condition considering its age finial of the end of the scabbard broken.

MEASUREMENTS: Overall length in the scabbard: 41 cm (16 1/8 in).
Due to the fact that the market is flooded by reproductions of the Moroccan daggers which for inexperienced collectors look the same as the authentic objects, we would like to inform our clients that this is a 100% authentic antique item, and is accompanied by a Certificate of Authenticity.