SOLD Antique Moroccan Islamic Dagger Jambiya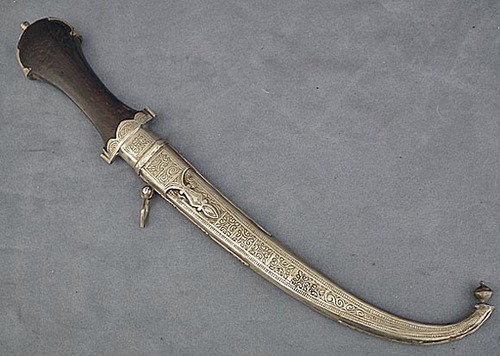 SOLD Antique late19th early 20th century Moroccan Islamic dagger Jambiya mounted in low grade silver alloy. A curved tapering steel blade with hexagonal chape engraved with traditional decoration, a wooden hilt with waisted grip, and a mounted pommel decorated with foliate, a tapering hexagonal-section scabbard engraved with foliate and geometric designs, with a suspension loop (one is missing), and bud terminal at the chape, traces of slight rust on the blade.
REFERENCES: (1)A similar Moroccan Jambiya is published in the Christie's catalogue: Quai d'Orsay, Paris - An Apartment by Jacques Grange 19 November 2010
London, King Street, lot 624, Estimate £300 - £500 ($460 - $750) sold for £1,375 -$2,206. (2) "Les Armes Blanches du Monde Islamique" by Alain Jacob.
MEASUREMENTS: Overall length in the scabbard: 41.3 cm (16 1/4 in).