SOLD Antique Medieval Romanesque 11th -13th Century Marble Column Base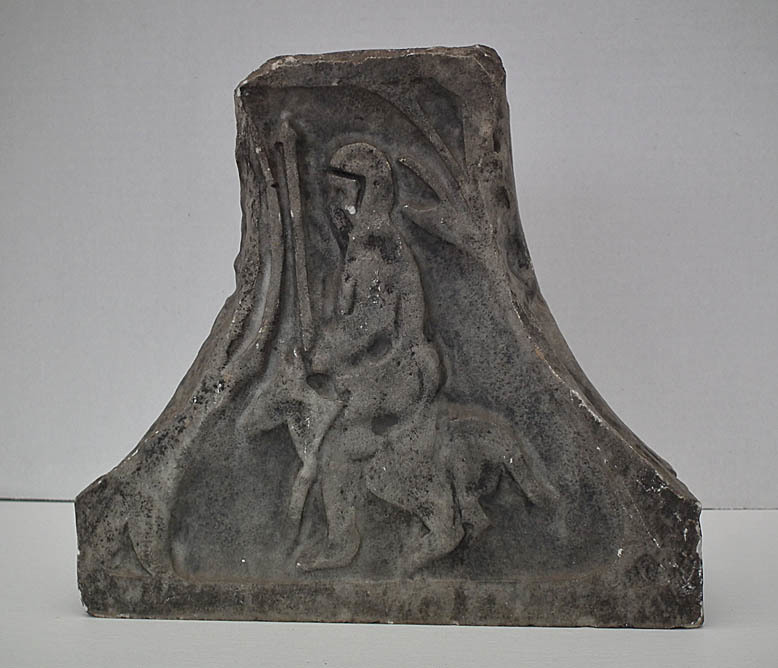 SOLD Antique, medieval Romanesque, 11th -13th century, marble column base from the window arch.The front carved in relief depicting a knight - warrior with a horse, the knight is wearing a chainmail coif and holding a spear, the other side is carved with plants, the two opposing convex sides carved in low relief with figure of atlas, standing with the legs astride and the arms raised to support the column.
The style of carving is very similar, in form, to the early medieval Stećak stone carving from the Bosnia and Herzegovina, please see the last 2 pictures in the listing and the link below.
https://www.google.ca/search?q=ste%C4%87ci&biw=1920&bih=945&source=lnms&tbm=isch&sa=X&ved=0ahUKEwi_h--pzOvJAhWBHB4KHXC1BNMQ_AUIBigB
MEASUREMENTS: Overall length: 24cm (9.44 inches). Height: 22 cm (8.66 inches).Width: 9.8cm (3.86 inches).
WEIGHT: Approximately: 7kg.
CONDITION: In its original good condition showing the age and usage, carvings with weathered surface and a dark grey - black patina.