SOLD Antique Medieval Islamic Large Splashware Pottery Bowl Nishapur 9th -10th century A.D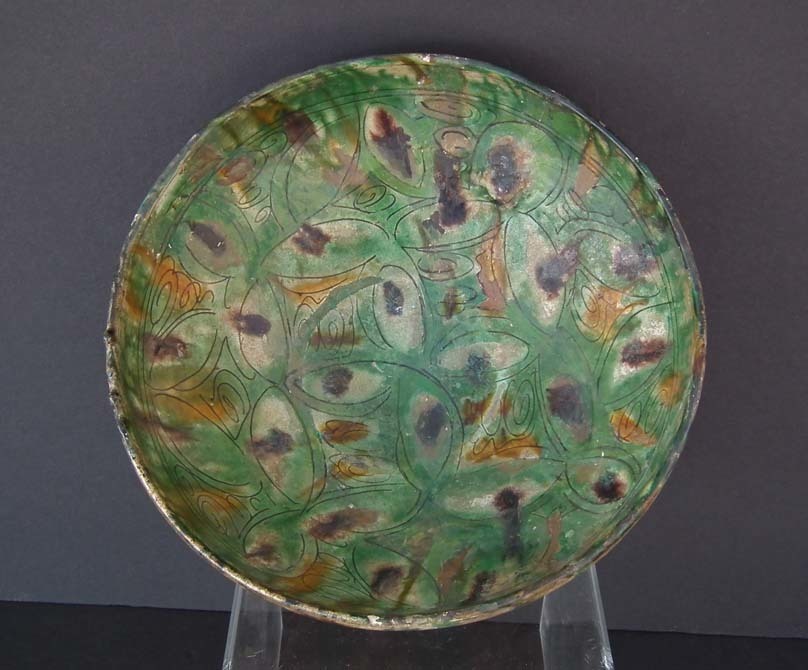 SOLD Please be cognizant that this is not a common Nishapure bowl, but is of museum quality and considered as an important Islamic Art Work, which in fact, a similar example to this one can be found on display in the most important world museum, The Metropolitan Museum of Art, New York.
Museum Quality, Antique Medieval Islamic Persian, Nishapur 9th - 10th century, AD. (3th - 4th century, AH.). Glazed ceramic bowl.
Details: Wheel-thrown, red earthenware with a white slip, incised engobe, and a decoration in sgraffito technique covered with splashes of green, yellow, and brown glaze, in Chinese Tang-Dynasty sansai style.
CONDITION: Repaired clean breaks, small areas of restoration.
MEASUREMENTS: Diameter: 25cm (9.84 inches). Height: 10 cm (3.94 inches).
REFERENCES:
1. A similar bowl is published in Sotheby's London, catalog "Arts of the Islamic World Evening Sale: Including the Harvey B. Plotnick Collection of Islamic Ceramics Part One "04 October 2011, lot 10.
We will provide the buyer with a copy of the page from the mentioned reference, together with a certificate of authenticity.
Below is a direct link to view this bowl in the Sotheby's catalogue on line.
http://www.sothebys.com/en/auctions/ecatalogue/2011/arts-of-the-islamic-world-evening-sale-l11229/lot.10.html
There are two, very similar bowls in the collection of the Metropolitan Museum of Art, New York, which can be viewed online.
Please see the links below: To see Additional Images of these two bowls please click on the plus symbol on the right side.
http://metmuseum.org/art/collection/search/456211
This bowl is an example of the splashware made throughout Iraq, Iran, and western Central Asia, a type inspired by Tang Chinese sansai glaze wares that were mainly decorated in a combination of green, yellow, and brown glazes. The addition of geometric and floral patterns, scratched into the surface of the bowl before the glazes were applied, is uniquely Iranian, and the vigorous, yet refined drawing of the foliate forms makes this one of the finest splashed sgraffito pieces.