SOLD Antique Medieval Islamic Bronze Oil Lamp Khorasan Seljuk/Seljuq Turks 12th Century A.D. (6th century AH)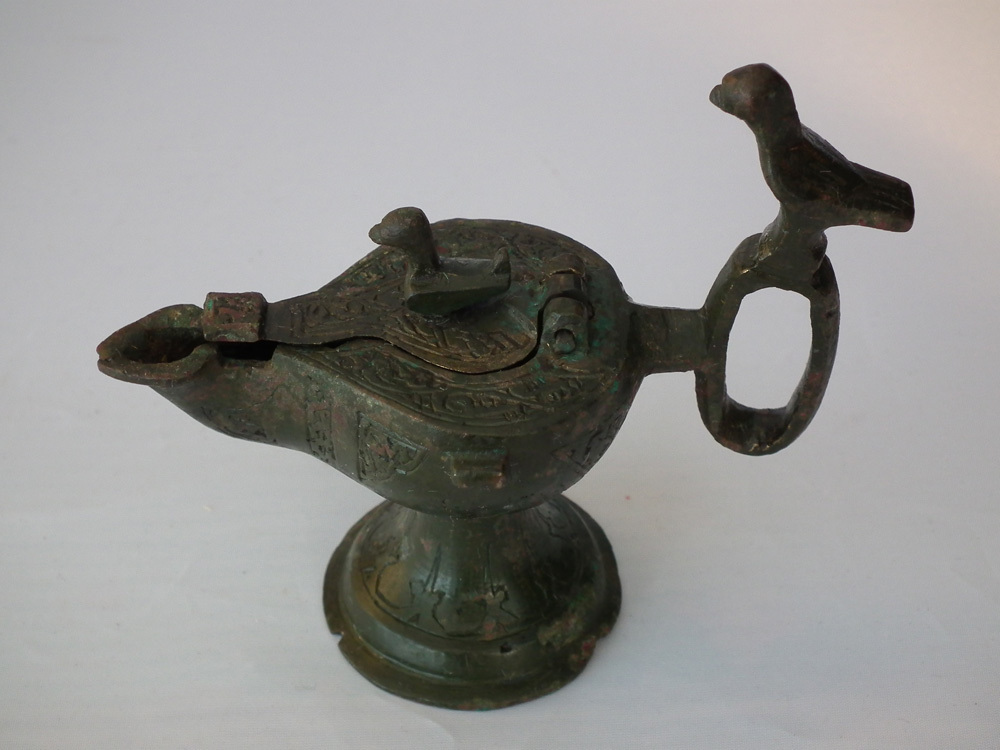 SOLD Authentic Antique Medieval Islamic cast bronze oil lamp. Khorasan Seljuk/Seljuq Turks Period 12th. Century A.D. (6th century AH "Hijri")

The body of pear shape on a spreading round stepped pedestal decorated with panels of reserved arabesque decoration, extending to the wall of the bowl; the discus with keyhole-shaped void surrounded by arabesque decoration, with expanding rim to the spout; to the rear, the handle formed as a loop with integral bird perched above; the separate hinged piriform lid incised in scroll design and surmounted with bird finial.
CONDITION: in good condition, considering its age of more than 700 years, with no restorations or repairs, showing the age and usage with beautiful patina.
MEASUREMENTS:
Overall length: 11 cm (4.33071 in).
Height of lamp including bird finial on the handle: 10 cm (3.93701 in).
REFERENCES: Islamic Metalwork of the Eighth to the Fifteenth Century in the Keir Collection by Geza Fehervari. Plate 31.
Similar lamps to this one can be found on display in the Museum Of Turkish And Islamic Arts, Istanbul, Turkey.
Please see the links below:
https://www.flickr.com/photos/lseco/9078082294/
The Seljuqs, a Turkic dynasty of Central Asian nomadic origins, became the new rulers of the eastern Islamic lands following their defeat of the powerful Ghaznavids at the Battle of Dandanakan (1040). By 1055, the Seljuqs had reached and taken over Baghdad, which put an end to Buyid rule, and established themselves as the new protectors of the Abbasid caliphate and Sunni Islam. Within fifty years, the Seljuqs created a vast though relatively short-lived empire, encompassing all of Iran, Iraq, and much of Anatolia. By the close of the eleventh century, as the Seljuq realm became troubled due to internal conflicts and the division of the realm among heirs, the empire dissolved into separate territories governed by different branches of the dynasty. The main branch of the Seljuq house, the so-called Great Seljuqs, maintained control over Iran. Under the Seljuq sultanate, Iran enjoyed a period of material and cultural prosperity, and the ingenuity in architecture and the arts during this period had a notable impact on later artistic developments.