SOLD Antique Medieval Crusader's Knight Iron Prick Spur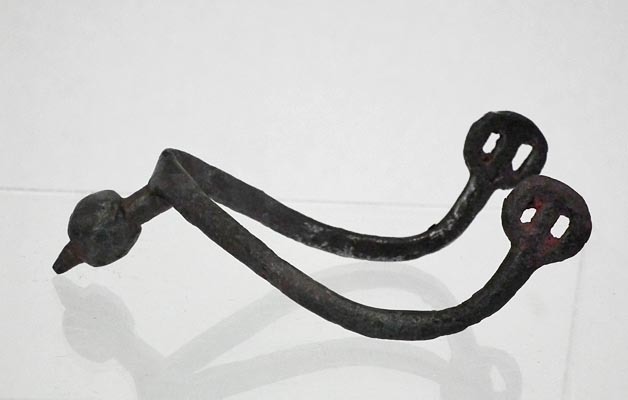 SOLD Antique Medieval 12th-13th century, Crusader's Knight (3rd-9th crusades) Iron Prick Spur with large faceted ball on the prick. Terminals each forming 2 slots allowing a single strap to used to secure the spur. It ran under the foot and through the slots at the sides of the spur. It was then buckled over the instep.
REFERENCES
(1) "Medieval Costume, Armour and Weapons" by Eduard Wagner, Zoroslava Drobna, Jan Durdik.
(2) "Reitzubehör - Das Bestimmungsbuch" by Steinmann.
(3) "Historische Waffen" by Heinrich Müller.
CONDITION: In Excavated condition, but overall complete and sound.
MEASUREMENTS: Overall length with the buckle: 10.2. cm (4 inches).