SOLD Antique Late 19th-Early 20th centuries African Maasai Masai War / Hunting Spear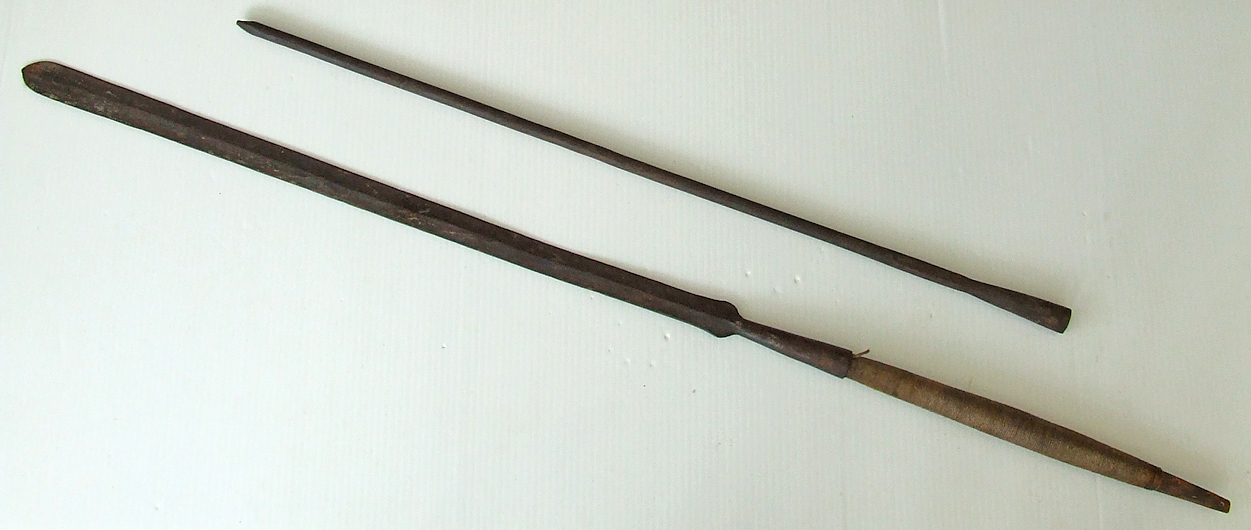 SOLD A very good quality antique original, dates to the late 19th-early 20th centuries, tribal African Maasai spear composed with very well hand forged iron, long slender leaf shaped blade with twin fullers running the full length, and medial ridge designed to strengthen the blade, with moulded tapering socket. Wooden central socket wrapped in cord for better grip, mounted on the opposite side with double stage spear tail, square near the socket, extended to long tabular spear head with pyramid-like shaped point.


An excellent authentic tribal African weapon piece, not the tourist junk. Pieces like this don't come up for sale too often.


This type of spear is termed by collectors as a lion spear since these were traditionally used by young men in a rites of passage to kill a lion to attain adulthood. However, these spears were used by Maasai as the combat weapon to defend the villages and the warrior himself against invaders aggression, and to defend the cattle from wild animals.


CONDITION: In good condition considering its age, showing the age and usage. The blade and the tail slightly rusty.


MEASUREMENTS: Overall length; 176.8 cm (69.61 inches), length of the head including socket; 75.3 cm (29.65 inches). length of the spear tail including socket; 75 cm (29.53 inches).


REFERENCES: Islamic And Native Weapons Of Colonial Africa: 1800-1960 by Anthony C Tirri. Page: 112,113,114.