SOLD Antique Japanese Samurai Naginata Sword 1603 – 1868 A.D.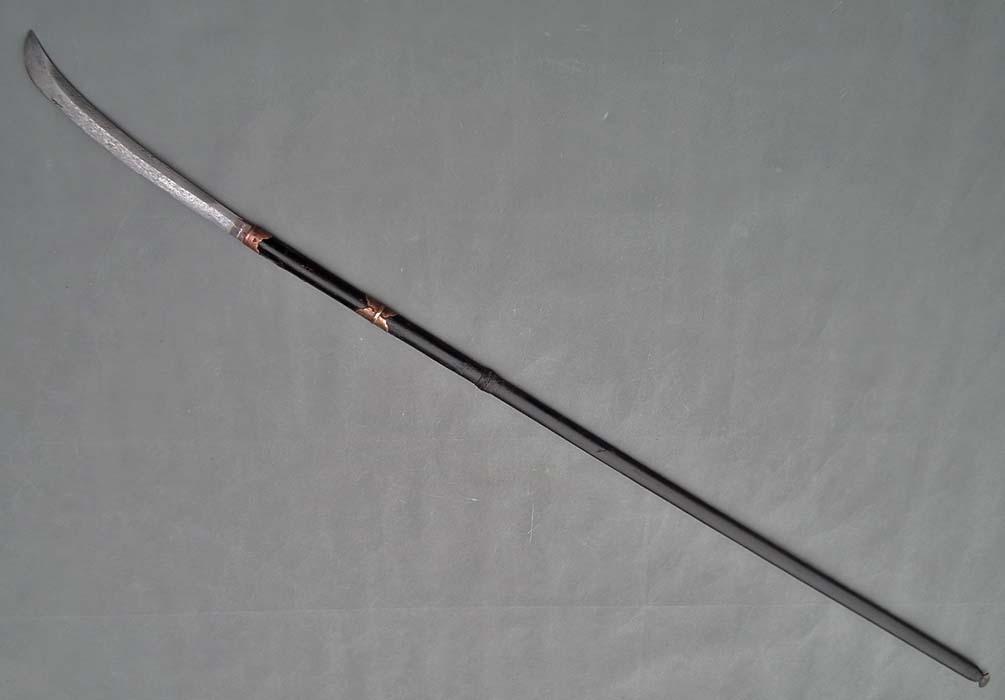 SOLD Authentic Antique Edo Period 1603 – 1868 A.D. Japanese Samurai pole arm Naginata including blade, wood pole and contemporary habaki.

DETAILS: Sturdy, curved steel blade with its original full-length pole with black lacquer finish, copper fittings, and, twine cord wrapping. The pole retains its original splayed iron butt.

CONDITION: Showing age and usage, the steel blade is pitted all over, very sharp cutting edge slightly worn with nicks, there are some visible flaws in lamination in the forge layered structure in the steel. Pole with several cracks lacquer finish chipped, with flecks, trace of the old black paint restoration as is common in old naginata pole. Habaki contemporary replacement. Please notice that the pictures in the listing are part of the description of the condition of the object.

MEASUREMENTS
Overall length of the Naginata with the pole: 198 cm (77.95 inches)
Overall length of the pole: 160.5 cm (63.19 inches)
Overall length of the Naginata including tang: 61 cm (24.2 inches)
Overall length of the blade from the tip to the bottom of the notch in the habaki: 36.2 cm (14.25 inches)

NO OVERSEAS SHIPPING ON THIS ITEM DUE TO THE LENGTH OF THE POLE.

Shipping to USA via the DHL Courier $180