SOLD Antique Islamic Turkish Ottoman or Persian saddle 17th/18th century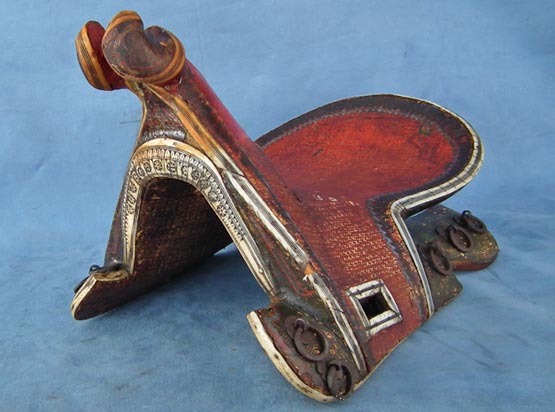 SOLD Rare antique 17th/18th century Islamic Ottoman or Persian wooden saddle, decorated throughout with polychrome lacquer Islamic designs bordered with strips and panels of bone incised with geometric patterns.

REFERENCES:
1. A similar saddle is published in the Sotheby's catalogue: "European Works of Art Arms and Armour" New York 24 May 1993 lot 469, title: Rare Decorated Wooden Saddle Ottoman or Persian 17th/18th century, at a price of $ 4,000-6,000 with the described condition: worn, cracks and chips throughout. Sold for: $4600 (19 years ago).

2. Two other similar saddles from the Ukrainian State Museum are published in the book: "Ukrainian Cossack State" by Volodymyr Nedyak, page: 93, which indicates that these types of saddles were also used by the Zaporozhian Cossacks.
We will provide the buyer with a copy of the page from the mentioned reference together with a certificate of authenticity.

MEASUREMENTS: Overall length: 45 cm (17 3/4 in).

CONDITION: Signs of usage and wear, minor cracks and chips throughout, some bone panels are missing.