SOLD Antique Islamic Indonesian Lampung Sumatra Gold Embroidered Tapis Sarong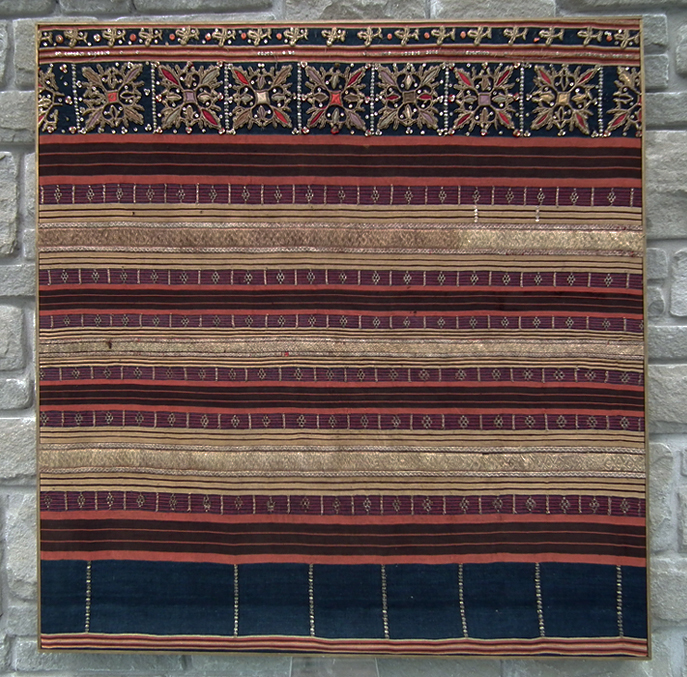 SOLD Antique 19th century Islamic Indonesian Lampung Sumatra gold embroidered hand woven Ceremonial Tapis Sarong.
Details: The Sarong is made of two panels sewed together of hand woven cotton in a design of multi-coloured horizontal stripes and embroidered with couched metal-wrapped thread-work of different gold shades and adorned with sequins. The stretching frame and the outer frame are modern.
APPROXIMATE DIMENSIONS OF THE FRAME: 118cm (42 1/2 inches) x 113 cm (40 1/2 inches).
CONDITION: In good condition considering its age, some loose and missing threads and sequins, partial age related wear.
Due to the large size of the frame, to ship this tapis we must dismount the stretching frame and the frame to individual pieces and then send it together with the tapis. Or on special request of the buyer, we will send the fabric without the stretching frame and the outer frame which will reduce the cost of shipping.
The Abung people of Lampung Sumatra Indonesia had a rich culture often holding elaborate feasts and ceremonies where heavily embellished costumes showed off their prosperity. The shimmering tubular tapis is traditionally worn around the waist, secured with a belt, with a selendant wrapped over the shoulders. The use of gold thread couching was a prominent decorative feature in ceremonial clothing of the Abung. Richly adorned cloths signified prosperity and noble status.