SOLD Antique Islamic Indo Persian Gold Inlaid Steel Shield Dhal Separ 18th Century Mughal India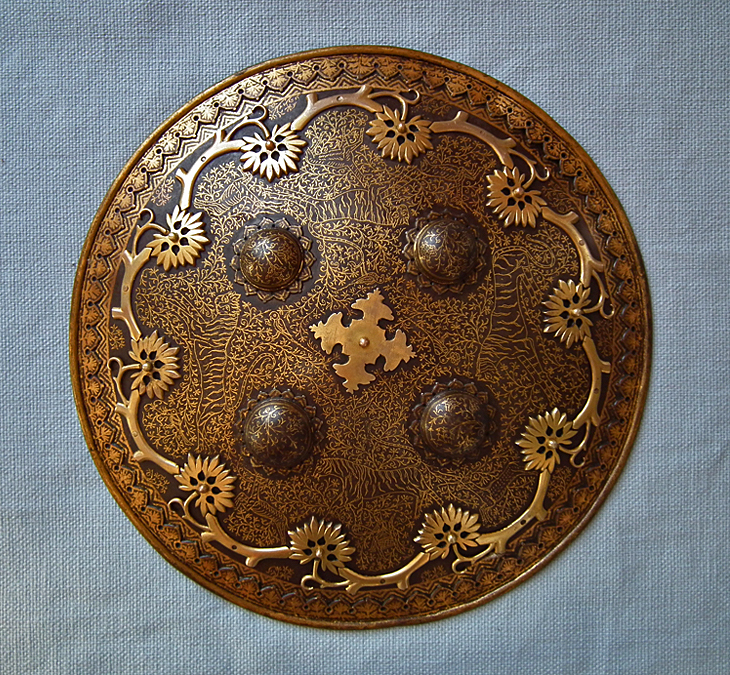 SOLD Superb quality, Authentic Antique Indo Persian circular steel Shield (Dhal, Separ), 18th Century Mughal India, fitted with four domed scalloped bosses, the centre applied with elaborately shaped gold gild copper. The entire outer surface richly inlaid in gold koftgari, on the russet background with four tigers, antelopes, and birds amongst scrolling foliage and flowers designs, enclosed by applied gold gild brass band of creepers riveted to the shield.
The outer rim of the shield is appliquéd by a broad reinforcing band with a serrated border, enriched with gold. The inner face retaining four rings for enarmes and its original red velvet lining and stuffed velvet cushion.
CONDITION: Showing the age and usage, small split between reinforcing band and the shield, otherwise in very good condition.
DIAMETER: 33.4 cm (13 1/8 in).
Due to the fact that the market is flooded by reproductions of the Indo Persian Arms and Armour, which for inexperienced collectors look the same as the authentic objects, we would like to inform our clients that this is an authentic antique shield, and is accompanied by a Certificate of Authenticity.
REFERENCES: A Similar shield is in the collection of the National Museum of New Delhi, dated to 1760, published in the"Indian Armours in the National Museum Collection Catalogue" by G.N.Pant and K.K.Sharma, Page: 96, Figure 88. Another example of related shield from National Museum of New Delhi is published in the book "Indian Arms and Armour, Volume III" by Dr. G.N. Pant plate CIX - CX. Dr. G.N. Pant Plate XXXVI.
The buyer will be provided with a copy of the pages from the mentioned reference.