SOLD Antique Indo Persian-Mughal Islamic Helmet Kulah-Khud 18th century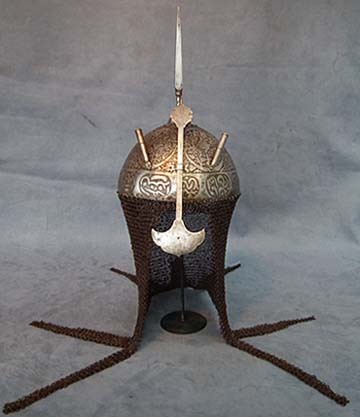 SOLD A superb quality Antique 18th century Indo Persian-Mughal, Kulah-Khud helmet. A hemi-spherical skull with a stout mounted long spike at the top, a pair of plume-holders, sliding nasal, retaining its original extremely long neck-defence camail of chain mail of fine flattened hand forged and riveted round links. The skull is chiseled over its entire surface with floral, and creeper design, in medium relief. The edge of the helmet is adorned by a broad band of twelve cartouches, containing script in Arabic calligraphy. This helmet is much heavier than most of the Indo Persian Kulah-Khud helmets, the skull of the helmet is hammered from a single piece of thick solid steel, with visible hammer marks in the interior, but with a perfectly smooth exterior surface.
MEASUREMENTS: Height from the top of the spike to the bottom of the mail: 76.8 cm (30 1/4 in), Diameter: 20.3 cm (8 in). Height from the top of the spike to the bottom edge of the helmet: 30.2 cm (11 7/8 inches), Diameter: 21 cm (8 1/4 in).
REFERENCES: A Similar helmet is in the collection of the National Museum of New Delhi dated to 1750, published in the"Indian Armours in the National Museum Collection Catalogue" by G.N.Pant and K.K.Sharma, Page 43 Figure 12. Also in the Indian book "Arms and Armour Volume III" by Dr. G.N. Pant plate CIX - CX. Dr. G.N. Pant - On page 1213 Plate XVIII.