SOLD Antique Indo Persian Islamic sword Shamshir/Talwar/Tulwar Mughal India 17th - 18th century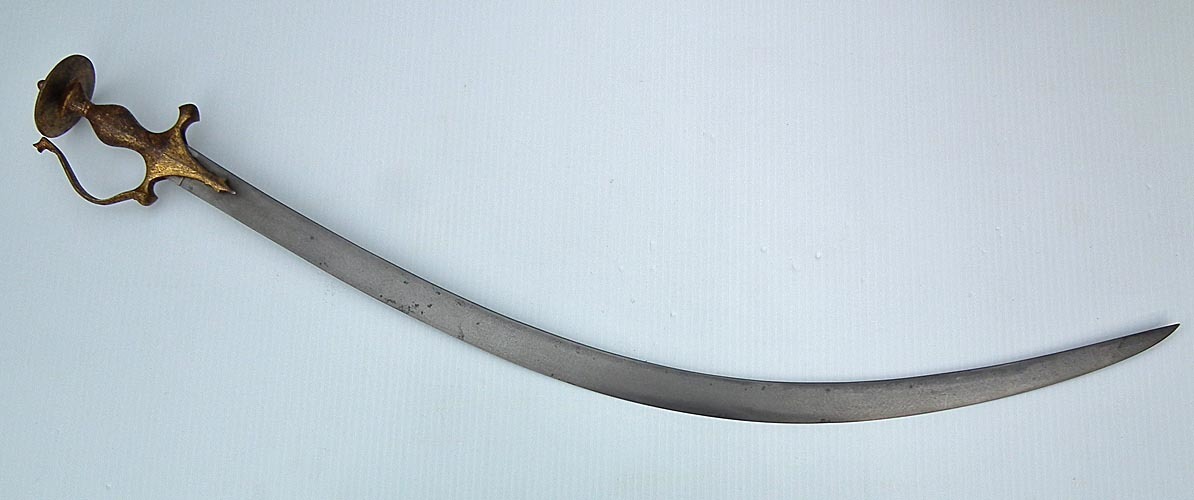 SOLD Museum Quality, Antique Indo–Persian Islamic northern Indian (Mughal India) aristocrat's sword Shamshir/Talwar/Tulwar late 17th or early 18th century.
DETAILS: The iron hilt is of characteristic form comprised of a cross-guard formed with a pair of short quillons as well with swollen terminals and long shaped langets; the crossguard of the hilt is entirely covered in heavy gold koftgari that is overlayed in floral design and has a knuckle bow terminating in a dragon head. The blade is a sturdy curved single edged Damascus steel Wootz blade (Crystalline Damascus).
CONDITION: The sword is in good condition considering its age, however, the gold overlay has some wear. The surface of the blade has minor pitting, which make the Damascus pattern not clearly visible; to make the Damascus pattern clearly visible the blade must be polished.
Please note that this is not a common poor quality Talwar sword such as most other Tulwar's swords but is of museum quality and considered as Islamic Mughal art work, a similar sword to this one can be found on display in the most important world museum, V&A - Victoria and Albert Museum, London.
Please see the links below:
https://www.flickr.com/photos/ronin237/6925493687/
MEASUREMENTS: Overall length: 85 cm (33 1/2 in)
Such luxurious Persian Shamshir/Tulwar swords with rich gold inlaid on the hilt and with Damascus steel wootz were affordable only by the Indian aristocracy and were worn as status symbols and used as combat weapons.
REFERENCES:
1. Tulwars with similar hilts to this one dated to the 17th or early 18th century are in the renowned collection of Robert Hales and published in the book Islamic and Oriental Arms and Armour: A Lifetime's Passion by Robert Hales (page 162). The buyer will be provided with copies of the page from the mentioned reference along with a certificate of authenticity.
Due to the fact that the market is flooded with reproductions of Islamic and Indo-Persian swords with Damascus steel blades with gold inlaid hilts, which for inexperienced collectors look the same as the authentic artifacts. These replicas do not have any historical, or investment value we would like to inform our clients that this is a 100% authentic antique sword and is accompanied by a Certificate of Authenticity.