SOLD Antique Indo Persian Islamic Indian Mughal sword 18th century India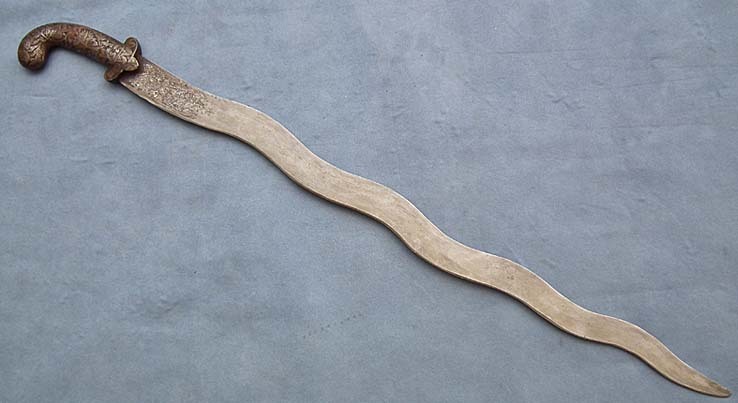 SOLD Antique,18th century, Indo Persian Islamic Indian Mughal sword with pistol shape steel hilt, chiseled with foliage and chevrons. Very large and extremely sharp serpentine-shaped blade, extremely well made of watered Damascus steel. Decorated on the both sides of the forte with silver inlaid koftgari floral motives, on the inner side of the blade there is, slightly visible, elaborate silver inlaid cartouche, as sometimes can be seen on the Persian sword blades with the makers name.
Reference: Similar types of the Islamic serpentine blades are in the Imperial collection in the Topkapi Saray Museum in Istanbul,Turkey. Please see Islamic swords and swordsmiths by Unsal Yucel.
CONDITION: In good condition considering its age, over 200 years old.
MEASUREMENTS: Overall length: 80.7cm (31 3/4 in), length of the blade: 68cm (26 3/4 in).