SOLD Antique Indo Persian Dagger Islamic Pesh-Kabz 18th century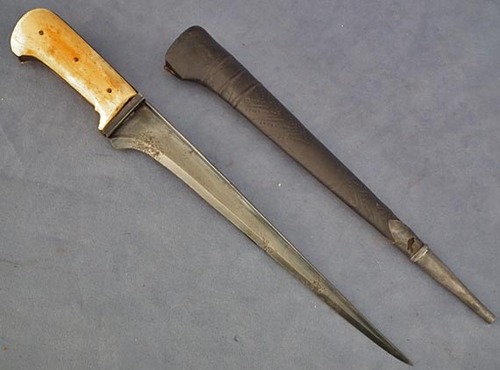 SOLD An Exceptional antique 18th century large Indo Persian Islamic dagger "Pesh-Kabz". A sturdy steel blade with bright reinforced cutting-edge, tapering gradually from the hilt to a sharp pointed tip, with a wide ribbed back. The hilt is formed of two pieces of large bone grips, riveted to the tang, and enclosed by steel straps, surmounted by a small suspension mount, in its original wooden scabbard covered in tooled leather with a steel chape.
REFERENCES:
1) "Indian Arms and armor, Vol. II" By Gayatri Nath Pant.
2) "A Glossary of the Construction, Decoration and Use of Arms and Armor" by George Cameron Stone.
3) "Indian and Oriental Arms and Armour" Lord Egerton of Tatton.
MEASUREMENTS: The overall length in the scabbard is: 45.5 cm (17 7/8 in).
CONDITION: In good condition considering its age, the blade is with traces of old corrosion. The chape is corroded.