SOLD Antique Indian Silver Salver Thali 19th century India Deccan- Maharashtra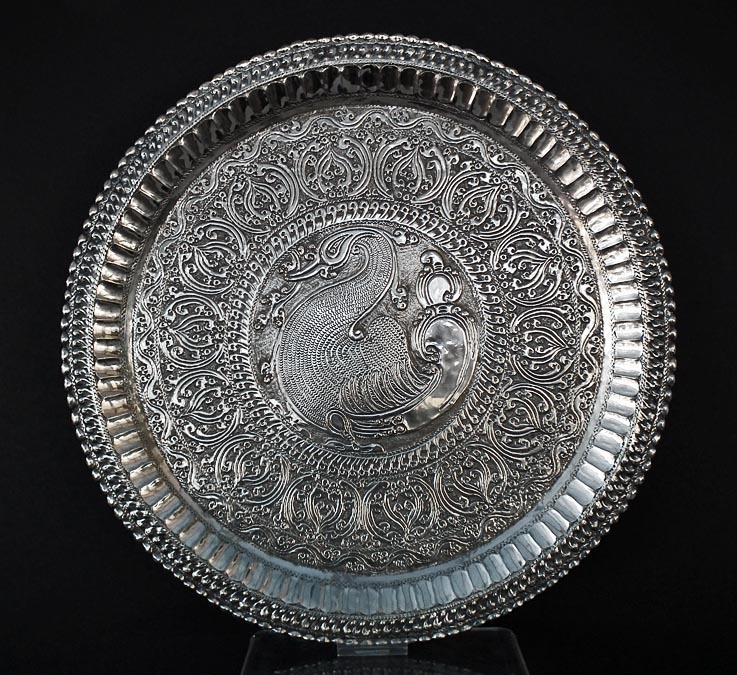 SOLD 19th century antique Indian solid silver large salver (Thali), India Deccan- Maharashtra. The silver has been hand hammered into a complex circular form with a gently sloping wall and scalloped pattern, rising to the averted rim. The interior decorated in repousse finely engraved and chased with bands of palmettes and scrolling tendrils adorned on the center roundel, depicting a mythical bird Hamsa.
The Hamsa, or the swan, is often identified with the Supreme Spirit, Ultimate Reality or Brahman in Hinduism. The flight of the hamsa symbolizes moksha, the release from the cycle of samsara. The Hamsa is also the vahana of Saraswati – the goddess of knowledge and creative arts, and her husband Brahma – the god with powers of creation, in Hindu trinity.
DIAMETER: 35 cm (13.78 inches).
CONDITION: In very good condition; no dents, repairs, or restorations.
WEIGHT: 382 grams. (13.47 ounces).