SOLD Antique Indian Parrying Shield Madu 18th/19th century Northern India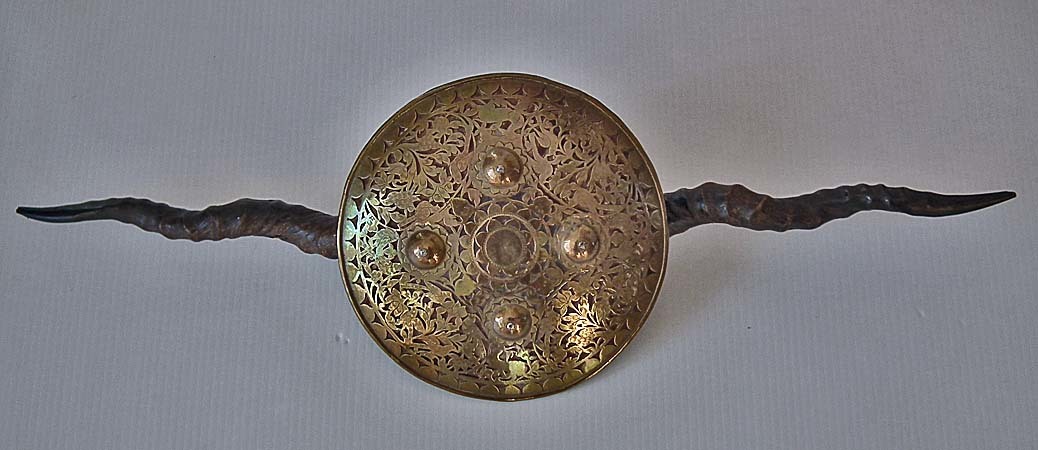 SOLD Antique Indian parrying and thrusting Buckler / Shield, Madu (Maru, Singuata), Northern India late 18th century - early 19th century. The shield consists of a pair antelope horns (Chinkara) mounted parallel, with the points outwards on the back of the small, circular convex form, steel buckler covered with brass, finely pierced, and engraved with foliage and animals including twenty perching birds among flowers, and two gazelles, all on the floral and creeper ground, fitted with four domed scallops bosses. The Madu was a weapon usually wielded in the left hand, with a spear, dagger, or sword held in the right.
CONDITION: In very good condition, considering its age.
MEASUREMENTS: Over length; 71 cm (28 Inches). Diameter of the shield: 23 cm. (9 inches).
This is a much better quality Madu, than an average example of this type of weapon, combining the function of a combat weapon and a piece of Indian Moghul artwork. Such quality examples are very rare, and hardly even seen in museums collections. Please see the link below.
http://otagomuseum.nz/collection/F46.25
REFERENCES: (1) "Arms and Armour Traditional Weapons of India" by E. Jaiwant Paul. (2) "A Glossary of the Construction, Decoration and Use of Arms and Armour in All Countries and in All Times" By George Cameron Stone.