SOLD Antique Indian Hindu Resht Rashti Rasht tapestry Ganesha & Kartikay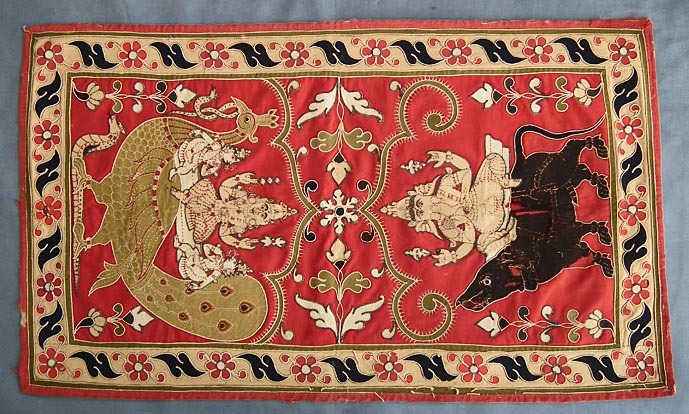 SOLD Rare Antique 19th century Indian Hindu wall hanging tapestry made in Resht - Rashti – Rasht technique, formed from pieces of wool patchwork and elaborate embroidery. One side depicts the Hindu god Ganesha,The Lord of Success and destroyer of evils and obstacles, riding on a Nandi (sacred cow). He is also worshiped as the god of education, knowledge, wisdom and wealth. The other side depicts the Hindu god of war Kartikay, brother of Ganesha, flanked by two other deities riding on a peacock, the killer of serpents .The peacock represents the destroyer of destructive habits and the captor of physical desires. The tapestry is backed with its original fabric lining.
Compared to the Persian,Turkish or central Asian tapestry the Indian Hindu wall hanging tapestry made in Resht technique are extremely rare and hardly ever seen, even in museums .
CONDITION: showing its age and usage, slightly worn, some stitch losses to the verse, ruptures and holes in Nandi black fabric body,l extreme edges worn with tears. Back fabric lining stained with holes.
The tapestry should be framed under glass and displayed on the wall as artwork
DIMENSIONS: 103 cm (40 1/2 in) by 61 cm (24 in).