SOLD Antique Imperial Russian Military Uniform Kuban Cossack Cherkeska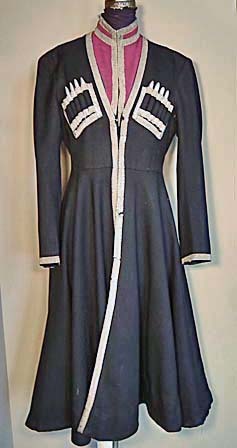 SOLD An authentic antique of late 19th to early 20th century, this imperial Russian Cossack (most likely Kuban) Cherkeska is an officer's uniform of a classic form, made of dark navy blue or black wool gabardine* with crimson silk besmets and a standing collar; it is in typical military uniform style with six pockets on either side of the breast for the gaziri. This Cherkeska is richly adorned with gold and silver metallic lace, the interior with its original black and dark navy blue lining. The wooden gaziri are not authentic but are leather replacements.
* The colour cannot be completely determined if it is dark navy blue or black due to lighting
On both sides of the shoulders are single loops made of thread for attaching epaulets (please see the pictures). Compared to most, this item is of outstanding quality and is very well tailored.
Real antique military cossack cherkeskas are extremely rare. Most cherkeskas that appear on the market are in fact traditional costumes of the people of Caucasus, which are almost never military, uniform nor antique, but mostly vintage or brand new and are purposefully aged to look antique.
I have been dealing in military antiques for over 40 years, and I have never seen a cherkeska for sale that was comparable to this.
CONDITION: The item shows age and usage with lots of wear, small holes, old repairs, and tears which require sewing.
DIMENSIONS: We do not know the size; however it fits well a slim 172 cm man. The approximate length from the top of the collar to the bottom edge: 132 cm (52 inches).