SOLD Antique Imperial Russian Military Sword Shashka M.1881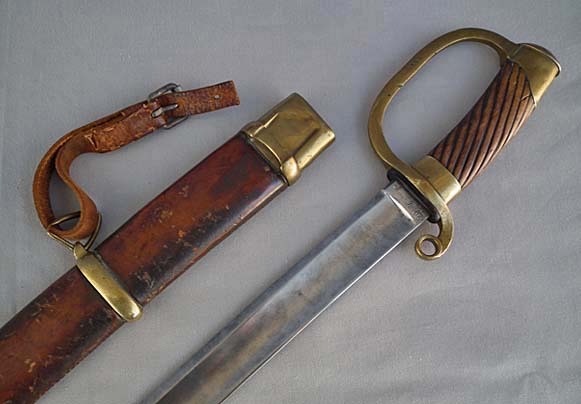 SOLD Original Antique Imperial Russian Military Shashka sword Model 1881, from the period time of Emperor Nicholas II, trooper's issue. Details: A slightly curved single edged steel blade, with a wide full-length fuller edge stamped, on one side of the forte by the Zlatoust Arms Factory dated 1891, the other side is stamped with the inspector marks. A regulation brass stirrup hilt with a spirally carved wooden grip, and brass fittings struck by the Zlatoust Arms Factory inscription and dated 1891. A knuckle-guard stamped with a later arsenal mark 1903. The sword comes with its leather covered wooden scabbard, with regulation brass mounts. A brass locket on the scabbard, and brass ferula on the grip, stamped with the matching Number 27.
CONDITION: The sword is in its good untouched condition, with signs of age and usage. The leather of the scabbard is split on the joint, and chipped in several places. The end of the brass Chape is completely worn out from usage. This is the nicest example of this model of sword which we have had, free of any type of restorations or repairs, in its original condition.
MEASUREMENTS: Overall length with the scabbard: 102.8 cm (40 1/2 in), the length without the scabbard: 101.6 cm (40 in), length of the blade: 87 cm (34 1/4 inches).
REFERENCES: 1)"Russian Edged Weapons" by Alexander Kulinsky 2) "Cold Weapons of the Kuban Cossacks," by Boris Frolov.
Due to the fact that the market is flooded by reproductions of Russian swords, which for inexperienced collectors look the same, we would like to inform our clients that this is a 100% authentic antique Imperial Russian sword, and is accompanied by a Certificate of Authenticity.