SOLD Antique Gold Watch Fob Seal Polish Coat of Arms Bernatowicz Gieysztoff 19th century Poland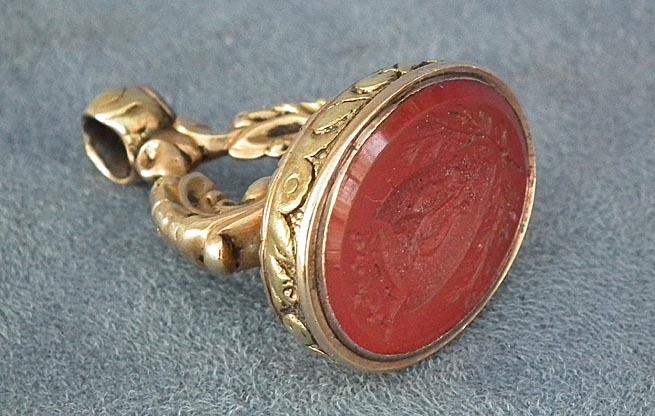 SOLD Antique 19th century gold pocket watch fob with crest seal bearing a Polish noble family Coat of arms Bernatowicz - Gieysztoff.
The intaglio coat of arms, finely carved into a red carnelian stone, depicts the crowned heraldic shield with horse shoe and an arrow with laurel-branches below.
The gold setting is hand made with fine detailed scroll work. The main body is made of 14 K gold, the base of the fob is applied with a band of 9K yellow gold, chased with detailed scroll work. The small round suspension loop on the top of the elaborate repoussé design finial is also made of 9K yellow gold. Since it got worn-out, to prevent farther damage, the interior of the loop was reinforced by copper liner.
This watch fob is unmarked, but has been tested so we know that it is made of 14k and 9K gold.
MEASUREMENTS: Overall length of the base: 2.5 cm (1inch).Height from the top of the loop to the base of the fob: 3.5cm (1 3/8 in).
WEIGHT: 14 grams.
In the late eighteenth and into the nineteenth centuries, it was quite common for a gentleman to carry a pocket watch chain with the fob decorating his waistcoat. Some were medallions; some were engraved with the person's initials, or coat of arms to seal a letter or document. Some were purely decorative.
CONDITION: Shows signs of usage and wear. The suspension loop worn out, with the interior reinforced by copper liner. Some scratch marks from testing the purity of the gold.
REFERENCES: "Herby Szlacheckie Rzeczypospolitej Obojga Narodow" by Tadeusz Gajl. Page: 20.