SOLD Antique French Napoleonic Cavalry Sword Sabre Consulate - 1st Empire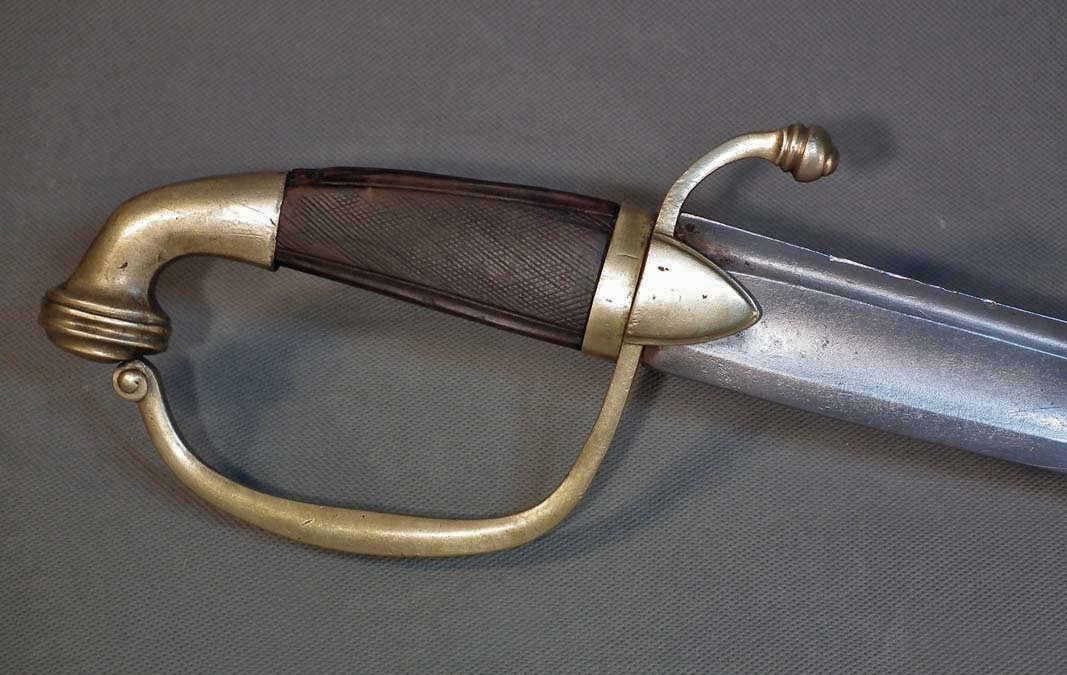 SOLD Antique French Napoleonic, light cavalry - Hussar Sword, Consulate - 1st Napoleonic Empire period, with the hilt "a la Marengo". This form of the hilt was made during the Consulate - 1st Empire period in many variations as most of the French Napoleonic military swords made before the year 1805.

Please see "Les Sabres portés par l'armée française" by Jean Lhoste, Patrick Resek.

From the year 1805 all French military Napoleonic swords were made on the regulation pattern approved by the Ministry of War. A long massive, slightly curved, hand forged, steel blade cut with broad full-length fuller. A brass hilt with single – bar curved knuckle bow with a pair of shield shaped langets, qullion with knobbed terminal and down-curving pommel, with its hardwood grip decorated with a checkered and fluted pattern. A long, slightly curved, massive blade cut on each face with a broad full-length fuller and a shorter slender fuller along the spine.

CONDITION: Showing the age and usage, blade slightly pitted, the wood handle cracked and chipped near the pommel (as common in the solid wood grips), but still holds, very solid. These are signs of age and usage that can be expected from an over 200-year-old combat sword.

MEASUREMENTS:

Overall length 95.5cm (45.28 inches)
Length of the blade: 81 cm (34.41 inches)
Width of the blade at the widest point: 3.7 cm (1.46 inches)
Thickness of the blade spine: 9 mm (0.35 inches)

WEIGHT: 747 grams (1.65 pounds).

REFERENCES: Les Sabres portés par l'armée française" by Jean Lhoste, Patrick Resek.