SOLD Antique French First Empire Napoleonic a d'officier superior sword Epee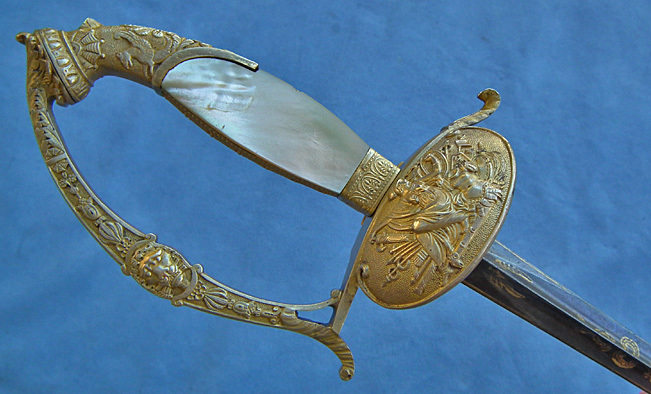 SOLD Antique 19th century French, First Empire, Napoleonic sword Epee for a d'officier superior with hollowed triangular blade engraved and gild with foliage end trophies on a blued panel and signed at the riccaso by the cutler's initials.
Gold gild brass hilt cast and chased in low relief comprising, elaborate knuckle guard ornamented with foliage and lion mask, turned pommel decorated with griffin, grip fitted with mother - of - pearl scales enclosed by gild bras straps decorated with empire ornament, down –turned shell guard, decorated with the figure of Minerva within a trophies of Neo- Roman arms.
REFERENCES:
1) Les épées portées en France by Jean Lhoste
2) Armes blanches: symbolisme, inscriptions, marquages, fourbisseurs, manufactures by Jean Lhoste, Jean-Jacques Buigne.
CONDITION: The sword is in very good condition considering its age.
MEASUREMENTS: Overall length: 91.5 cm (36 inches).Length of the blade: 79.7 cm (31 3/8 in