SOLD Antique Edo Period Japanese Samurai Spear Lance Sankaku Yari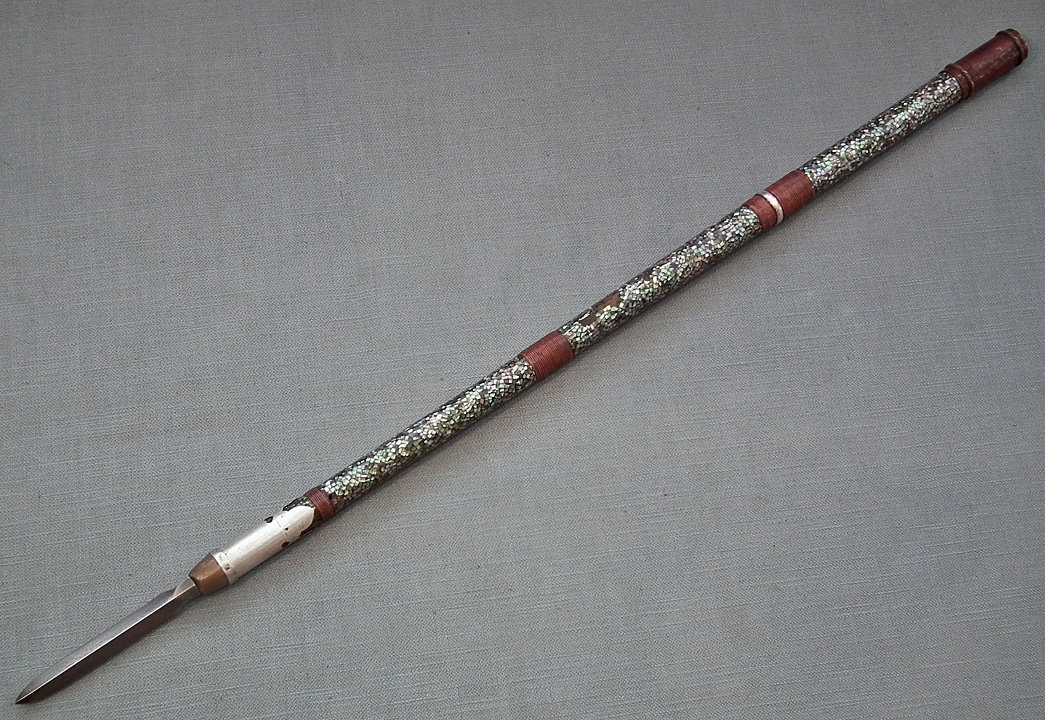 SOLD A superb quality Antique Edo period (1603 -1868) Japanese hand-forged Samurai fighting Spear Sankaku Yari comprising of a blade of typical form with a triangular cross section with three equal sides, an unsigned tongue pierced with two peg holes, and a wooden tapering cylindrical pole that has its surface decorated in black lacquer inlaid with mother-of-pearl splinters and mounted with several original matching fittings including a copper kuchigane and large beautifully shaped overlaid in sterling silver gyakuwa with a reinforcement ring, three fluted and red lacquered fittings. One is adorned with a reinforcement ring overlaid in sterling silver, and the bottom fitting is made of red lacquered iron and fitted with two copper rings hand chiselled in roped pattern. The haft is pierced with one peg hole, possibly the second peg hole is under the silver gyakuwa (cannot remove gyakuwa from the shaft).
CONDITIONS: Showing its age and usage, absence of the second part of the pole, some rust residual pitting, two areas of the pole are missing mother-of-pearl splinters, we try to describe items exactly as we see them and include as many good pictures as needed, so the buyer knows exactly what they are getting. Please notice that the pictures in the listing are apart of the description of the condition of the object.

MEASUREMENTS
Overall length of the Yari with the pole: 87.5 cm (34.45 inches)
Overall length of the Spearhead including tang: 27.8 cm (10.95 inches)
Overall length of the blade: 13 cm (5.12 inches)