SOLD Antique Early 18th Century Spanish Cavalry Sword Rapier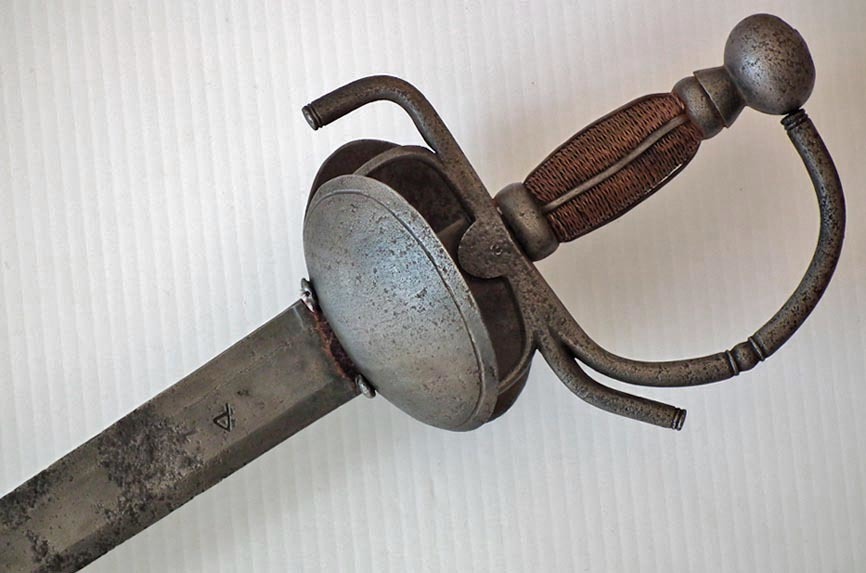 SOLD Antique early 18th century -1728 pattern, huge Spanish cavalry broadsword Rapier. Details: broad tapering blade of flattened – hexagonal section, stamped at the forte with the marks mark, iron hilt with copper wire wrapped barred grip with globular pommel, double hemispherical guard, recurved cross guard and knuckle bow.
REFERENCES:
1.Spanish Military Weapons in Colonial America by Sidney B. Brinckerhoff & Pierce A.Chamberlain, pg. 82 where they state that this form of hilt was used from the mid 1600s on and thought to be standardized in 1728.
2. ESPADAS ESPAÑOLAS. MILITARES Y CIVILES. del siglo XVI al XX. by Vicente Toledo Momparler. pg. 98.
3.Swords and Blades of the American Revolution by George C. Neumann. (296.S).
A photocopy of the pages from the aforementioned references will be provided along with a certificate of authenticity.
CONDITION: Showing the age and usage, slightly pitted overall.
MEASUREMENTS: Overall length: 105 cm (41 3/8 in). Length of the blade: 87 cm (34 1/4 in).