SOLD Antique Chinese Qing Dynasty enamelled Porcelain Pillow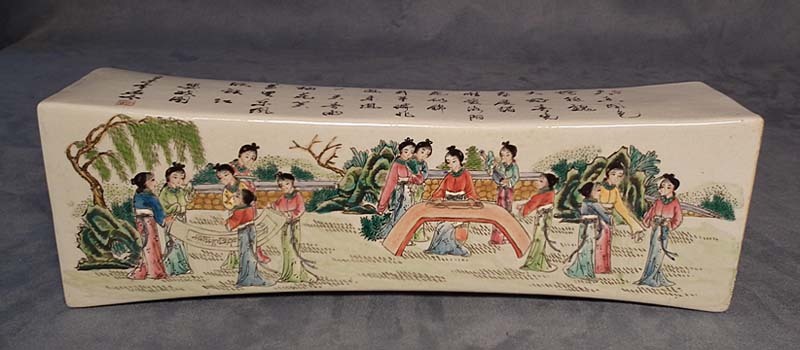 SOLD Antique Chinese late Qing dynasty Guangxu period (1875-1908) enamelled porcelain pillow of waisted rectangular form. One side is decorated with finely hand painted, in enamel, scene depicting young girls in a garden. The oposite side is painted with, young boys playing in a garden, scène. The two other sides are decorated with, hand painted in black, Chinese scripts signed on each side in red painted square and oval marks. A pierced double-coined motif on one side. The pillow comes with a box, as is on the photograph.
A comparable late 19th century Chinese porcelain pillow was sold for £6,250 ($10,044) by Christie's London, South Kensington on 9 November 2011. Sale 4012. Lot: 580.
Please see the links below:
http://www.christies.com/lotfinder/lot/a-chinese-enamelled-porcelain-pillow-guangxu-period-5494877-details.aspx
DIMENSIONS (Approximate): Length: 34 cm. (13 3/8 in.). Width: 10.8 cm. (4 1/4 in.). Depth: 8 cm (3 1/8 in.).
This pillow comes from an old Canadian collection of Oriental Art, and has been placed for sale for the first time.