SOLD Antique Chinese Qing Dynasty 17th-18th Century White Hetian Jade Pendant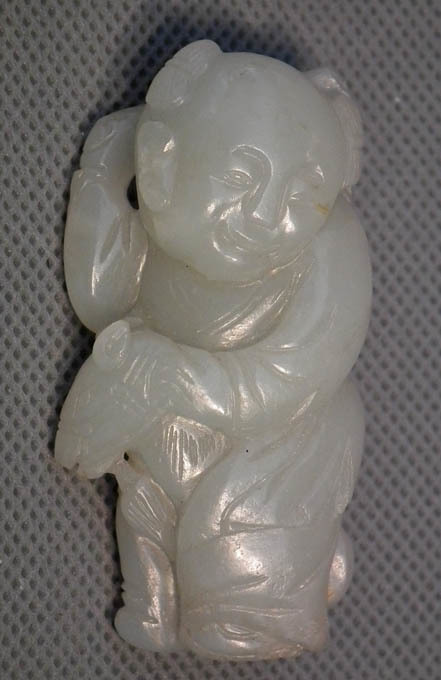 SOLD Antique, Chinese Qing Dynasty, 17th-18th century (or older), finely hand carved white Hetian jade pendant depicting a Lucky Boy Riding a Stick Horse holding in his right hand a banner with engraved Chinese writing stalks. The dog is happy and is showing affection to the boy. Finely relief carved throughout. Beautiful white jade, hinting at pale green with glowing translucence.
CONDITION: In good condition showing its age and usage, minor chip to the edge of the banner, surface with age patina, the calcified mineral deposits strongly visible on the surface are strong and excellent indicators that the jade is an old and authentic antique, possibly older than 17th century.
DIMENSIONS: Length: 6 cm (2.36 inches). Width: At the widest point: 3.2 cm (2 1.26 inches).
WEIGHT: 40 grams.
Due to the fact that the market is flooded by reproductions of Chinese jades carvings which for inexperienced collectors look the same as the authentic antiques jades, we would like to inform our clients that this is a 100% authentic antique Chinese jade carving and not a reproduction, and is accompanied by a Certificate of Authenticity.