SOLD Antique Chinese Mongolian Jeweled Silver Dagger Corals & Turquoises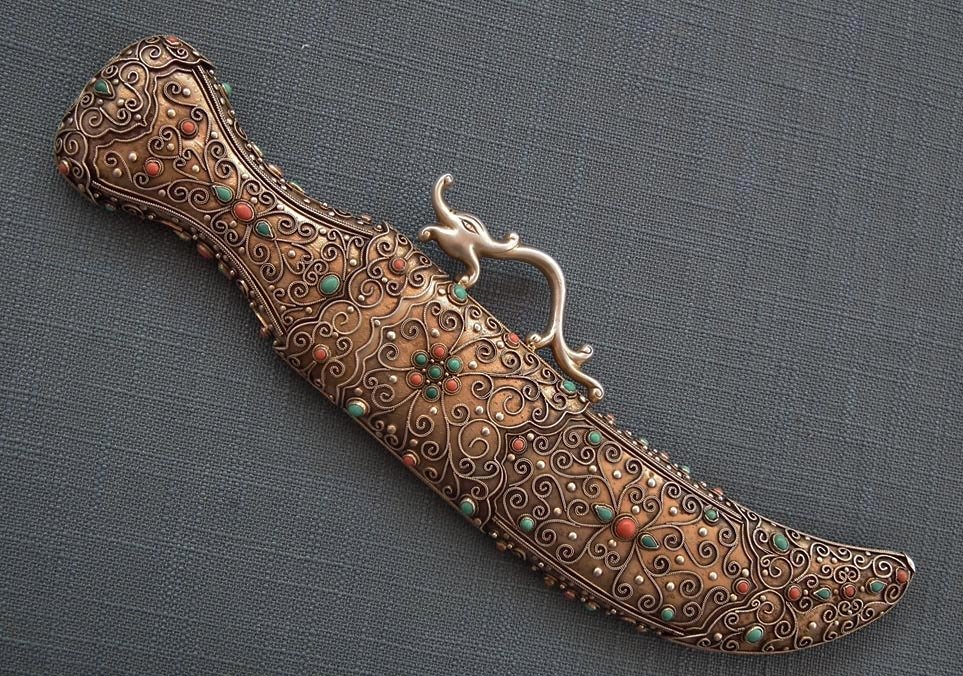 SOLD Antique (late 19th - early 20th century) splendid Chinese, Mongolian Nobleman Silver mounted ceremonial dagger with a slightly curved single-edged hand forged steel blade with a narrow fuller.

The grip and scabbard are made of gold gilded sterling silver finely executed in interlinking pattern made of twisted silver filigree scrollwork and applied with settings of various sizes and shape natural corals and turquoise: 52 corals and 31 turquoises in total. The suspension mount is in the form of stylized mythical dragon.

Condition: The steel blade is slightly pitted. Some wear to the gold gilding on the exposed area of the of twisted silver wire, otherwise in excellent condition free of dents and repairs.

MEASUREMENTS:

Overall length in the scabbard: 33 cm (12.99 inches)

Total weight of the dagger is: 663 grams (1.46 pounds)