SOLD Antique Chinese Ming Dynasty Bronze Buddhist Guardian Lion Foo Dog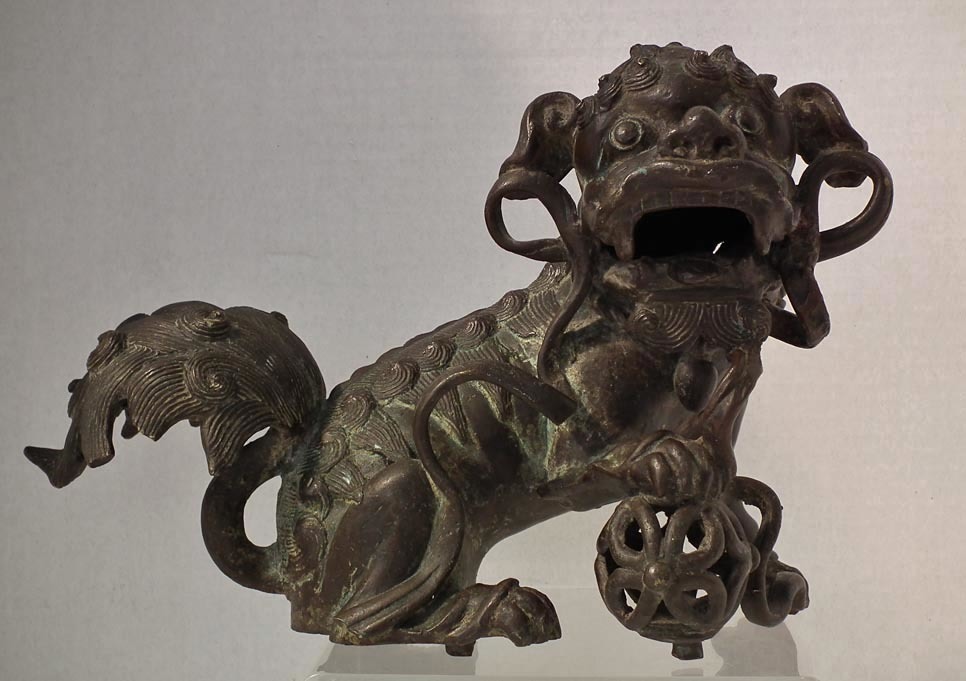 SOLD Authentic Antique, Chinese, MING DYNASTY, (1368-1644) finely cast bronze sculpture of a Buddhist Guardian Lion - Foo Dog. The lion shown seated on its haunches with its right paw raised on a brocade ball, its scrolling tail flicked upwards. The large head with celestial ribbon turned gently to its right, detailed with bulging eyes and open mouth revealing neat teeth and sharp fangs, the mane and the back applied with swirling locks of hair and smaller curls.

Due to the fact that the market is flooded by reproductions of Chinese Bronzes, some of them very good quality reproductions, which for inexperienced collectors look the same as authentic objects, we had left the sculpture in the original condition as was acquired, we did not clean the bronze or lubricate it, and left it uncleaned as evidence of its authenticity.

We would like to inform our clients that this is a 100% authentic antique Chinese, MING DYNASTY (1368-1644) bronze, and is accompanied by a Certificate of Authenticity.

Condition: With its original old patina, neck dented with two vertical splits, as expected with age, please see the last picture. Under the three legs are sticking out round pins, one pin has a small iron deposit, it's possible that the lion was originally mounted on the base. Absence of the fourth leg. We do not know if the lion was cast with three legs or the fourth leg was broken off a long time ago, since, there is no difference in the color of the patina with other parts of the sculpture.

Comparable Ming Dynasty Bronze Buddhist Guardian Lion Foo Dog was auctioned Christie's auction house, 6 November 2009, London, South Kensington. Please see the link below:

http://www.christies.com/lotfinder/sculptures-statues-figures/a-large-bronze-buddhistic-lion-censer-ming-5258194-details.aspx

MEASUREMENTS:
Overall length: 28 cm (11 inches).

Height: 19 cm (7.5 inches).

WEIGHT: 3.944 kg (8.7 lbs.)