SOLD Antique Chinese Ming Dynasty (1368–1644) Brocade Silk Panel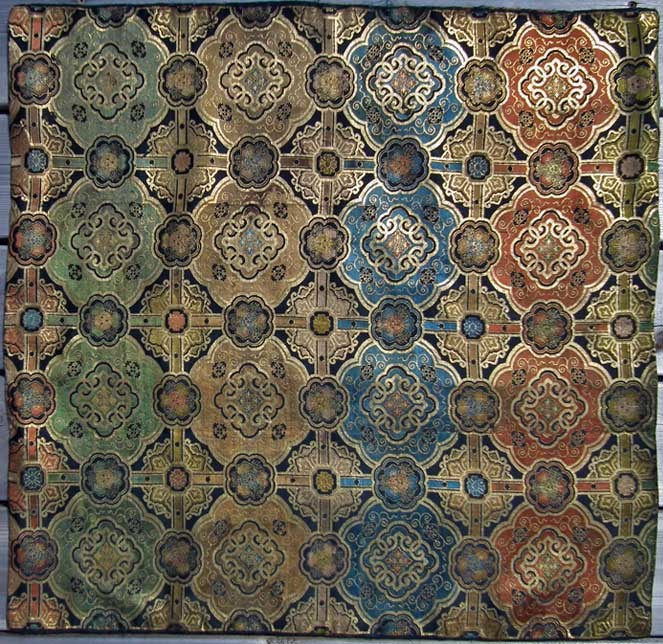 SOLD Extremely Rare Antique Chinese Ming Dynasty (1368–1644) brocade silk panel, finely hand woven in one piece in multicolored silk, and gold with a continuous lattice design. This pattern was a very popular design of Song Dynast silk brocades but can also be very often seen on Ming Dynasty silk brocades. The back is lined in row silk and inscribed with Chinese script.
Since this Brocade silk is woven with gold and is very shiny, we were unable to take proper photographs. The pictures don't justify the extremely high quality and rich colors of this fabric, which in fact looks much better showing brighter and richer colors and as well finer details.
This particular Damask Silk is a master piece of Chinese art, heavily woven in gold which was an expensive luxury fabric typically strictly reserved for imperial nobility, high-ranking officials, Buddhists, and Taoist temples and high ranking priests.
To see Chinese Silk brocades with lattice design dated to the Song and Ming Dynasty please see the links below.
https://www.tumblr.com/search/song-dynasty-china
https://www.pinterest.com/pin/68961438014548958/
http://rupertsmith.weebly.com/ming-tent.html
http://www.harvardartmuseums.org/art/203440
This lattice design had been adopted in Tibetan art from Chinese Ming Dynasty brocade silks imported to Tibet from China and appear on Tibetan fabrics as well for lacquer work, also it is known as the kati rimo pattern.
Please see the links below.
http://www.asianart.com/exhibitions/markel/markel3/index.html
This Rare Chinese Silk Brocade came from an old Canadian collection of Chinese Antiques, which we are in the process of photographing and placing for sale for the first time.
Due to the fact that the market is flooded by reproductions of Chinese antiques, which for inexperienced collectors look the same as the authentic objects, we would like to inform our clients that this is a 100% authentic Chinese antique brocade silk and not a reproduction, and is accompanied by a Certificate of Authenticity.
CONDITION: Signs of usage with some age, wear, and dirt marks. However In very good condition considering its age and the material from which it is made. The back lining has holes and stain marks, all of this is an aspect from a used antique fabric that is over 300 years old.
DIMENSIONS: Since this is an antique fabric panel, it can't be expected to be exactly even. The size which we are providing is approximately: 70.5 cm x 68 cm (27 3/4 in x 26 3/4 in).