SOLD Antique Chinese 19th century Qing Dynasty Women's Silk Costume Robe - Coat & Trousers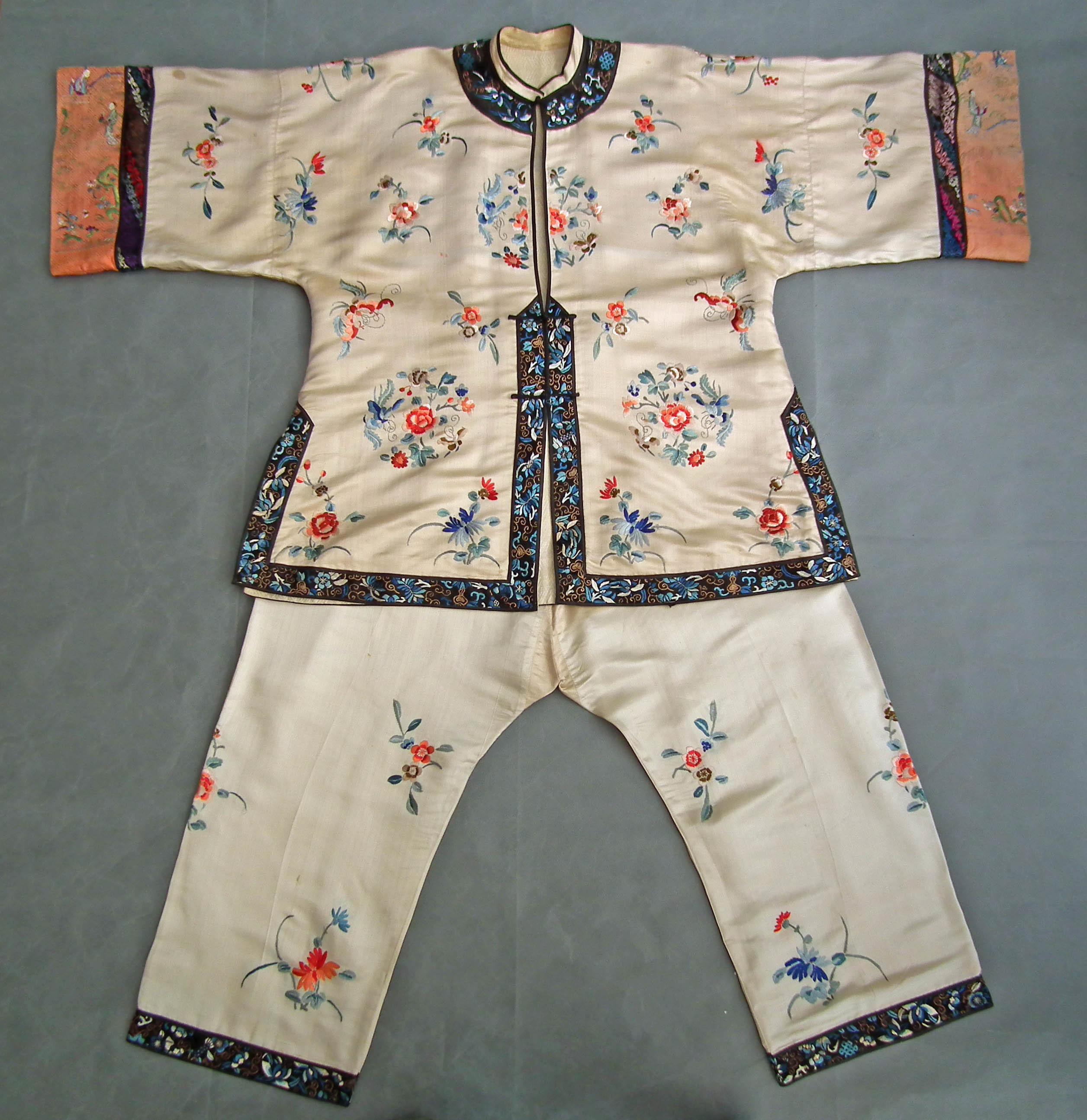 SOLD Antique Chinese late 19th century Qing Dynasty women's Silk Costume Robe – Coat jacket with trousers (ku). A creamish white satin silk coat finely embroidered in satin silk stitch with various flowers and butterflies. The orange - color satin sleeve cuffs finely woven in pattern and embroidered with figures in Chinese traditional clothing in garden and bordered by black silk bands woven with flowers. Secured at the front with its original three fabric buttons. The bottom and the neck band bordered by black silk bands finely embroidered with flowers. The interior lined in creamish white satin silk woven in key patterns.
The trousers embroidered en suite with the jacket bordered on the bottom by black silk bands woven with flowers.
DIMENSIONS OF THE COAT: Approximately when placed flat: Length: 80 cm (31 1/2 in), Width (distance from cuff-to-cuff): 80 cm (48.43 in).
LENGTH OF THE PANTS: 97 cm (38.19 in)
CONDITION: in good condition considering its age, and the material from which it is made, showing the age and usage, spot of stain marks, some loose of threads, partial age related wear.
REFERENCES:
1) Traditional Chinese Clothing: Costumes, Adornments & Culture by Shaorong Yang
2) Chinese clothing. By Hua Mei
This costume comes from an old Canadian collection of Oriental Art, including many Chinese robes and related items which we are in the process of photographing and placing for sale for the first time.
Due to the fact that the market is flooded by reproductions of Chinese textiles which for inexperienced collectors look the same as the authentic antiques textiles, we would like to inform our clients that this is a 100% authentic antique Chinese costume and not a reproduction, and is accompanied by a Certificate of Authenticity.