SOLD Antique Central Asian Brass Teapot - Ewer 19th century Bukhara – Samarkand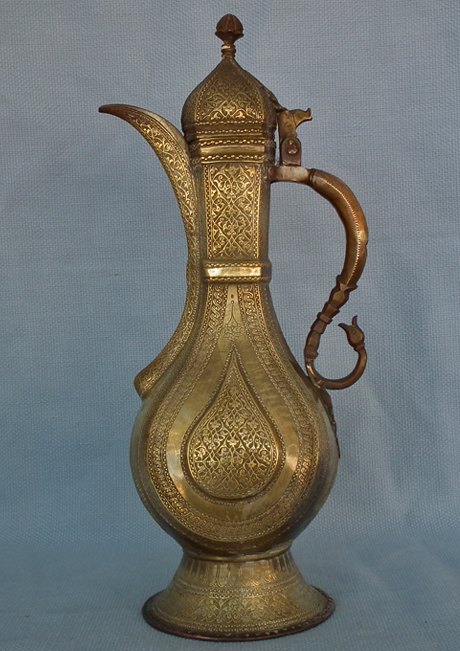 An exceptional example of an Antique Central Asian brass & Copper Teapot - Ewer, 19th century, Bukhara – Samarkand. Tear - shaped body on a flaring trumpet foot, with the base of hammered copper sheet; curved spout with an octagonal neck and octagonal domed hinged cover; a serpentine handle with dragon - head terminal.
The body decorated with finely chased bands of engraved arabesque interlace and drop-shaped panels.
Similar ewers are in many world famous museum collections, including Henri Moser collection in Charllotenfels, Switzerland.
1. Bei Schah, Emir Und Khan: Henri Moser Charlottenfels, 1844-1923. [Roger Nicholas Balsiger; Ernst J Kläy.
2. The Arts and Crafts of Turkestan by Johannes Kalter
3. The Art of Central Asia by Galina Anatolevna Pugachenkova
4. ERBEN DER SEIDENSTRAßE - USBEKISTAN. Johannes Kalter und Margareta Pavali.
HEIGHT: 33 cm (13 in).
CONDITION: In excellent condition, showing the age and usage. There are no repairs, splits or dents.