SOLD Antique British – Canadian Military Duty Bugle, A.K.A. M1855 By Beare & Son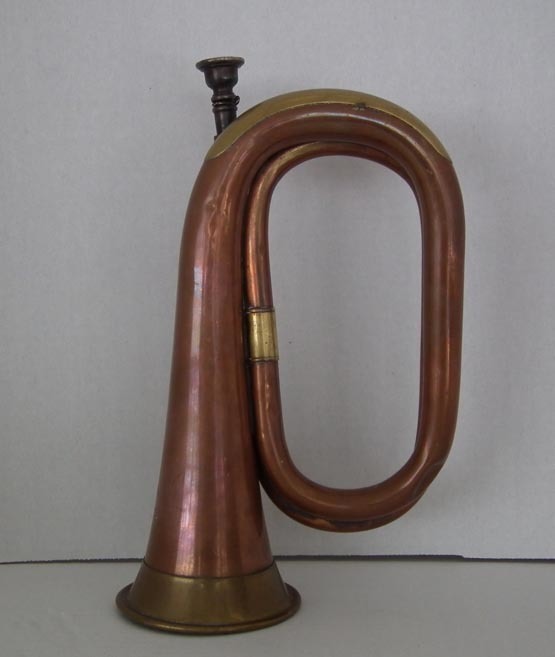 SOLD Authentic antique British – Canadian Military Duty Bugle, A.K.A. M1855, made of copper and brass with a silver mouth piece, the bell stamped with British kings crown "British Regulation" above "Crown" "Beare & Son" "Made In England. "
Beare & Son established their first shop at Brewer Street, London in 1865, the company was retailer of musical instruments, mostly string instruments, either made specifically for them, or otherwise obtained, and their name put on them. Around the turn of the century and presumably in 1920 they opened the shop in Toronto. The instruments were marked Beare & Sons Toronto. We were not able to find in any references, including internet any other example of a bugle stamped" British Regulation "Crown Beare & Son, Made In England. " Most likely this is only existing bugle with this particular marking and probably was commissioned from Beare & Sons for Canadian army circa 1900.
MEASUREMENTS: Overall length: 30 cm (11.81 inches). Bell diameter 10 cm (3.94 inches).
CONDITION: In good condition and shape considering its age, with signs of age and usage except for minor dents.
To find more information about Beare & Sons please see the links below.
http://www.corilon.com/shop/en/info/beares-london.html
https://qspace.library.queensu.ca/bitstream/1974/11912/1/bandinstrumentsf00bear.pdf
http://database.ukulelecorner.co.uk/b/beare--son