SOLD Antique Bhutanese - Tibetan long sword, Bhutan ,Tibet 18th -19th century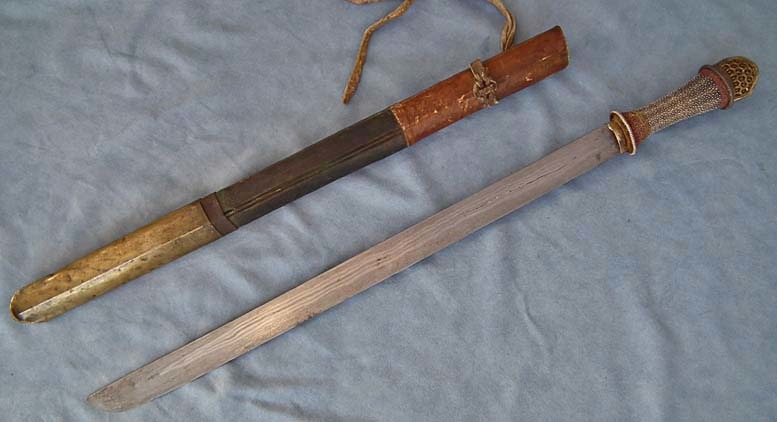 SOLD A good quality antique Bhutanese long sword, Bhutan 18th -19th century with large and broad single-edged, watered steel blade with a strong visible welded 'hairpin' pattern. Hilt of characteristic form including wooden grips bound with rayskin, openwork brass pommels pierced and engraved with scrolls, an oval cooler and knuckle guard with pearled silver edging. In its original wooden scabbard covered with green and buff leather with a large brass locket.
Bhutanese swords are often found in southern and eastern Tibet and while there are some important shared features, they are nevertheless distinct in form and style from Tibetan swords.
REFERENCES: Very similar 18th century Bhutanese sword from the collection of the Metropolitan Museum of Art, New York is published in the book "Warriors of the Himalayas: Rediscovering the Arms and Armor of Tibet" (page 171 - No.73).
Please see the links below:
http://books.google.ca/books?id=9OEgHdARteoC&pg=PA171&lpg=PA171&dq=sword+bhutan+The+Metropolitan+Museum+of+Art&source=bl&ots=s2a0QA-lsR&sig=MNc_Yk2ow5xTnR0_rFzLNy50pTk&hl=en&sa=X&ei=bzuNUoi8NsLOyAHM54CQCA&ved=0CCkQ6AEwAA#v=onepage&q=sword%20bhutan%20The%20Metropolitan%20Museum%20of%20Art&f=false
CONDITION: Age and usage is showing, the brass pommel is slightly dent. However, the sword is in good condition considering its age.
MEASUREMENTS: Overall length of the sword sheathed in the scabbard: 78.5 cm (30 7/8 in), the Overall length without the scabbard: 78 cm (30 /4 in).