SOLD Antique Arab Dagger Silver mounted Islamic Jambiya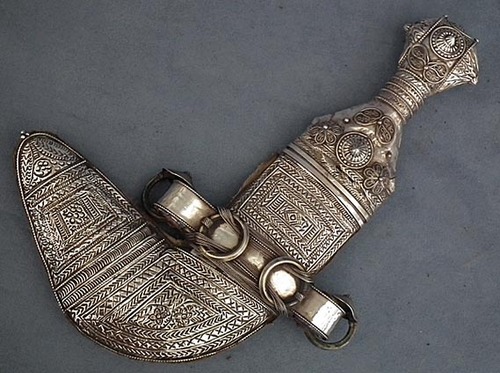 SOLD Antique 19th century Arab silver –mounted dagger Jambiya with curved double-edged blade formed with a medial ridge, silver hilt of open wire fine filigree bead work with raised knobbed pattern, silver scabbard with wooden insert decorated with repousse in the typical tribal motifs and fitted with a belt loops for suspension.
Overall length with the scabbard: 31.5 cm (12 3/8 inches).
Condition: The Jambiya is in good condition and shape considering its age with signs of age and usage patina.
REFERENCES:"The Arms and Armour of Arabia in the 18Th-19th Centuries" By Robert Elgood
"The World Encyclopedia Of Knives, Daggers & Bayonets" By DR.Tobias Capwell