SOLD Antique American Civil War Sword US Cavalry Confederate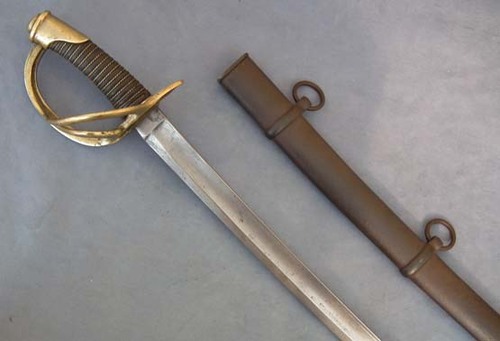 SOLD Authentic Antique American Civil War US cavalry sword model 1840 saber called the "wrist breaker". Details: A hilt with a three bar brass guard, and a leather covered wooden grip bound with roped brass wire, with a brass pommel. An extremely long slightly curved single edged flat back steel blade, with a narrow and wide fuller. The sword is in its original steel scabbard with two suspension rings.
Since the sword does not have any makers markings, or government inspector's stamps, which would indicate that it was made prior to the civil war, or during the civil war, by one of the manufactures appointed by the US Government, which all US military swords of this pattern have, and also does not have any markings of the European sword makers who exported swords to the confederate, or Union dealers during the civil war, it is possible that perhaps the sword was made during the civil war by confederates.
CONDITION: The sword is in good condition considering its age, except for the scabbard, which is pitted particularly on the lower part with one minor rust hole above the shoe.
MEASUREMENTS: Overall length with the scabbard: 108.3 cm (42 5/8 in). Length of the sword without the scabbard: 103.5 cm (40 3/4 in ). Length of the blade: 90.2 cm (35 1/2 in).