SOLD Antique American Civil War Cavalry Sword Sabre Mansfield & Lamb dated 1864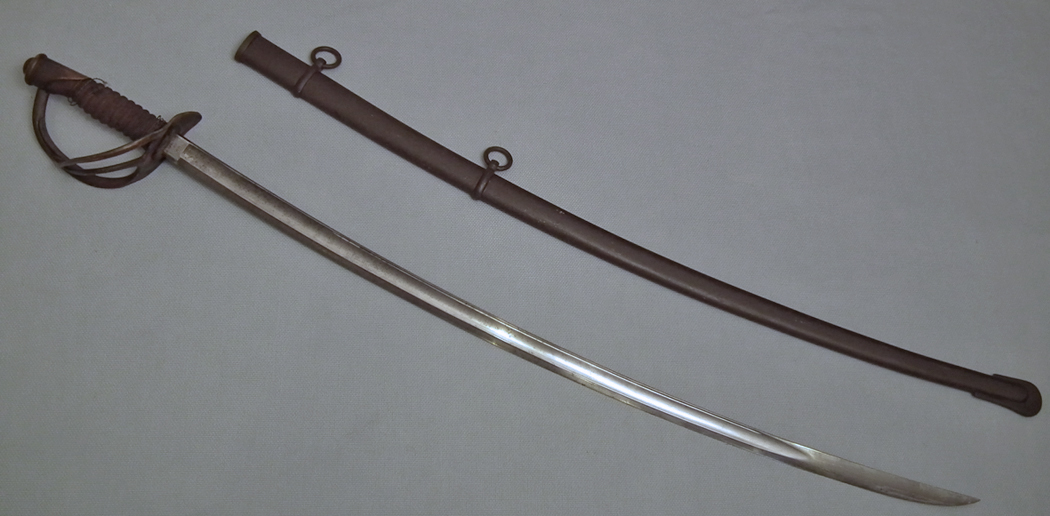 SOLD Authentic, Antique American Civil War cavalry sword, saber: dated 1864 (Model 1860), made by Mansfield & Lamb of Forestdale, Rhode Island.
Details: An extremely long, slightly curved, single edged steel blade, cut with a broad full-length fuller, and a slender fuller along the back-edge, very well marked, ricasso stamped on the outer site with production date 1864. C.E.W (the inspector initials) and U.S. The inner site stamped with maker's mark of the Mansfield & Lamb Company of Forestdale, Rhode Island. Blade has the original leather washer. A regulation cross hilt with a three bar guard, and brass pommel stamped on the top with additional inspector marking, a spirally – grooved wooden grip with remains of the wire wrap. The sword is in its original steel scabbard with two suspension rings. This Mansfield & Lamb Civil War cavalry saber has a rare 1864 production date.
CONDITION: In the same condition as was found, with its original patina showing the age and usage, lack of the leather binding and the wire wrap.
MEASUREMENTS: Overall length with the scabbard: 108.5 cm (42 3/4 in). Length of the sword without the scabbard: 104.3 cm (41 1/8 in). Length of the blade: 88.3 cm (34 3/4 in).