SOLD Antique 9th -13th century Silver & Iron Byzantine Pectoral Reliquary Cross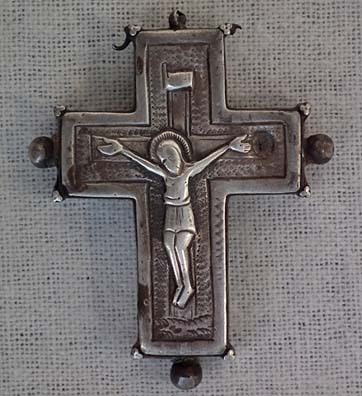 SOLdDAntique 9th -13th century Byzantine pectoral reliquary cross consists of an iron core that is encased in sheet silver plates chased in low relief the Virgin holding the Christ child flanked by the inscription "MP" on the left and "OY" on the right. The reverse chased in low relief with figure of Christ on the cross.
DIMENSIONS: Height: 6 cm (2 3/8 in). Width: 5 cm (2 in).
CONDITION: In its original condition showing the age and usage, slightly worn with minute scratches.
WEIGHT: 35 grams (1 1/4 oz).