SOLD Antique 3rd Degree Knights Of Columbus Sword First Edition Patterns With Eagle Pommel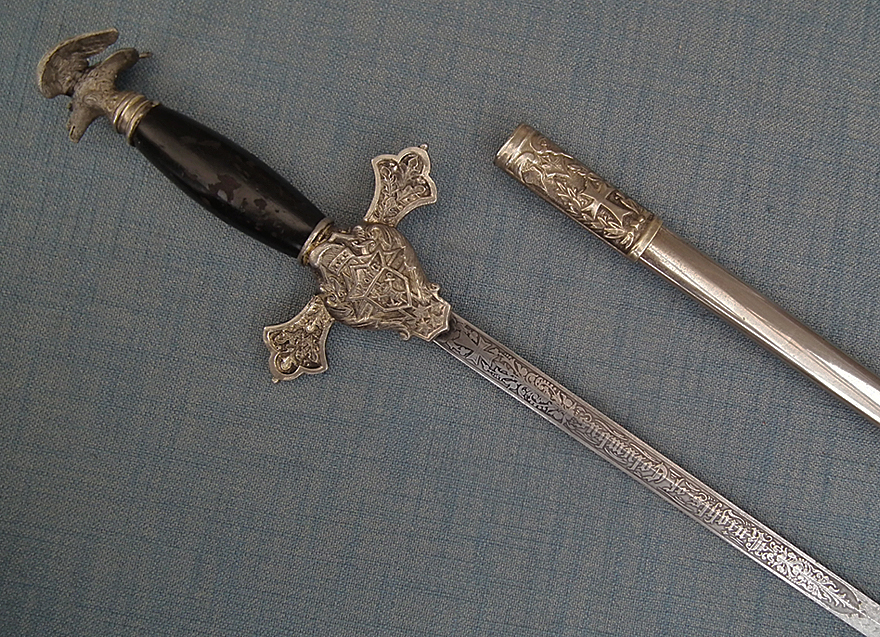 SOLD Rare Antique circa 1900 A.D. good quality first edition pattern of the Knights Of Columbus 3rd degree Sword With Flying Eagle Pommel.
An elaborate hilt with black ebonized wood grip with a highly decorated silver-plated brass mounting comprises, American Eagle pommel, elaborate cross-guard adorned on the center with Emblem of the Knights of Columbus.The emblem consists of a shield mounted on a Formée Cross which representation of the cross of Christ and Catholic identity of the order. On the shield are three objects: Roman fasces, Anchor; and a Knightly sword. In ancient Rome, the fasces were carried before magistrates as an emblem of authority. The order uses it as "symbolic of authority which must exist in any tightly-bonded and efficiently operating organization. The anchor represents Christopher Columbus, patron of the order. The sword was a weapon used by medieval knights. The shield as a whole, with the letters "K of C", represents "Catholic Knighthood in organized merciful action. The top of the emblem surmounted by stylized Phrygian cap with the band ornamented with three five-pointed stars, referring to the third degree, knight. The quillon block on the reverse side of the cross guard adorned with Isabella Cross.
A straight double-edged blade etched at the outer side in elaborate script "Knights of Columbus" within the floral pattern and the Isabella Cross on the forte.
The other side of the blade etched with Emblem of the Knights of Columbus and with another Knights of Columbus emblem consisting of fasces with Phrygian cap (a symbol of liberty), and two swords, amongst floral spray and foliage
A nickel-plated steel scabbard with brass silver-plated mounting including locket decorated with Isabella Cross and leaves with button for attachment to baldric belt. Chape richly decorated in open work with ancient double-bladed axe "Labrys" and American heraldic shield.

MEASUREMENTS:
Overall length: 91 cm (35.83 inches)
Overall length without the scabbard: 88 cm (34.65 inches)

CONDITION:in good condition considering its age, showing its age and usage ebonized wood grip slightly chipped. All of this is an aspect from a used antique sword, approximately 100 years old.

Please see the photos as they are a part of the description.