SOLD Antique 19th century sailor made, carved coconut Jewel Box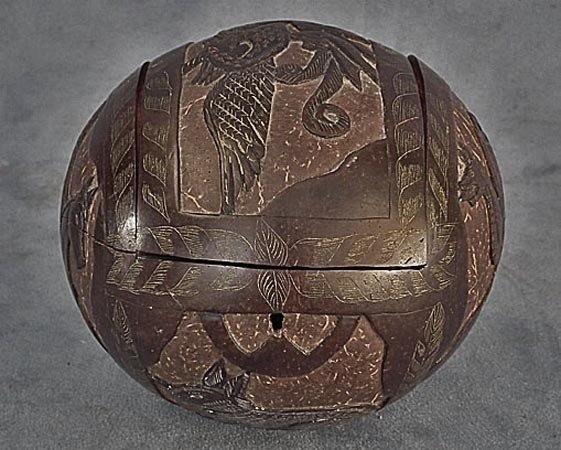 SOLD Antique early 19th century, sailor made, coconut jewel box with cover and lock. The exterior is carved in low relief and highlighted by dye with five panels depicting various creatures: a sitting rabbit on the front, a lion on the back, a dragon and Pegasus on the sides, and carved Griffon on the hinged lid. The hinged lid has a working lock. The interior is lined in red tufted velvet.

CONDITION: In good condition considering its age, with a nice patina except for one crack on the horse head, near the front of the lid, and absence of key from the lock.

MEASUREMENTS:
Approximate Length: 14.5 cm (5 3/4 in)
Approximate Width: 14.3 cm (5 5/8 in).
Approximate Height: 13.6 cm (5 3/8 in)