SOLD Antique 19th century Russian Rostov Blessing Reliquary Cross Крест напрестольный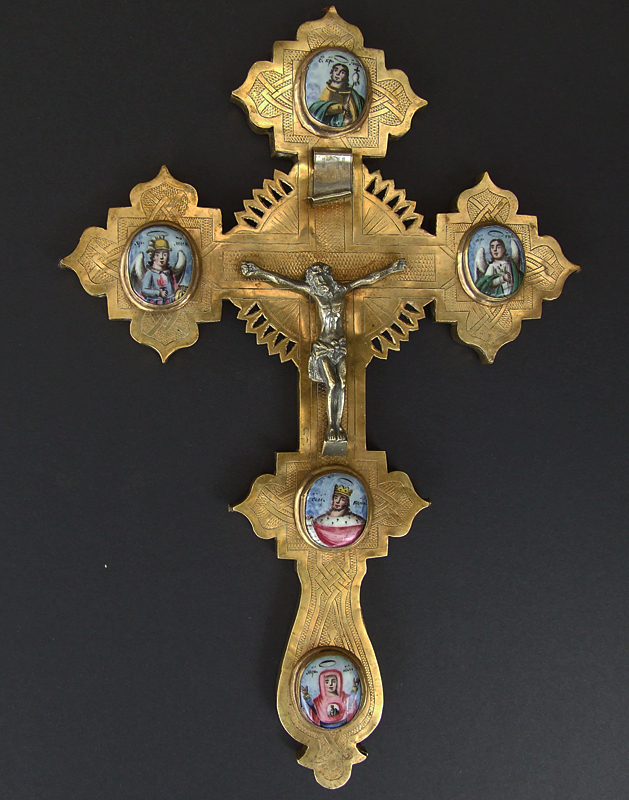 SOLD Rare Antique, 19th century, Imperial Russian Rostov Large Blessing Reliquary Cross, (Крест напрестольный), of traditional form, of box-like construction (compartment for a reliquary) made of parcel-gilt brass joined by the screws. The exterior is finely engraved in a traditional Russian pattern with a silver plated brass crucified figure of Christ on the center, surmounted by a silver plated plaque inscribed with Cyrillic monogram, and applied with five hand painted, enameled, oval medallions depicting two angels, two saints, and the icon of Our Lady of the Sign beneath.
The reverse of the Cross is engraved in Old-Church-Slavonic, and adorned with a traditional Russian ornament.
MEASUREMENTS: 38 cm x 25 cm (14.96 inches x 9.84 inches).
CONDITION: Showing the age and usage, the gold gilding and the silver plating worn-out, the two screws are the later replacements.
Due to the fact that the market is flooded by reproductions of antique Russian brass crosses, which for inexperienced collectors look the same, we would like to inform our clients that this is a 100% authentic, antique Russian cross, and is accompanied by a Certificate of Authenticity.