SOLD Antique 19th century Russian Brass & Enamel Cross For an Icon Case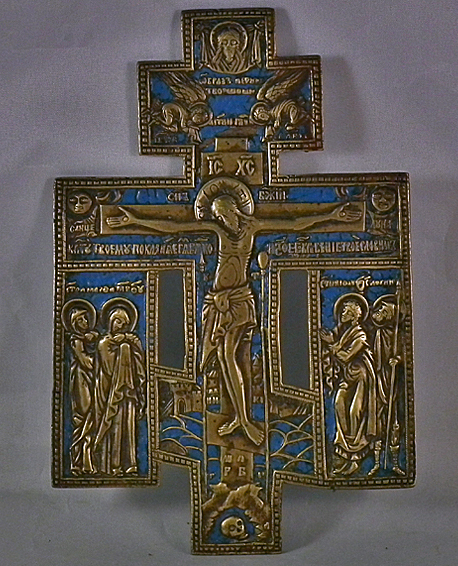 SOLD Authentic Antique 19th century Russian orthodox Brass and Enamel Cross. The Crucifixion with the Mourners, brass with backed enamel. Eight-ended cross with rectangular plates; left plate represents the Virgin and St. Martha in attitudes of mourning, while the object of their grief was still erect and upon the cross; right plate: St. John the Theologian, and St. Martyr Longings the Centurion. On the top part The Vernicle (Holy Face) with two angels. A sun and moon on the ends of a middle bar, text of prayer to The Crucifix along the bottom edge on the bottom edge. The Crucifixion in the centre, in the lower part walls of Jerusalem and Mount Golgotha, with the skull of Adam on the bottom end. Floral ornament of vine and flyover patterns covers the resverse
DIMENSIONS: 16.7 cm x 11.2 cm (6 5/8 in x 4 3/8)
CONDITION: In good condition considering its age, showing the age and usage.
Due to the fact that the market is flooded by reproductions of antique Russian brass crosses, which for inexperienced collectors look the same, we would like to inform our clients that this is a 100% authentic antique Russian cross and is accompanied by a Certificate of Authenticity.
REFERENCES:
1. Smithsonian Museums in Washington, DC. (From the former "Kunz Collection) Published in the catalogue. Russian Copper Icons and Crosses from the Kunz Collection: Castings of Faith by Richard Eighme Ahlborn and Vera Beaver-Bricken Espinola.
2. Andrei Rublev Central Museum of Ancient Russian Culture and Arts. Published in the catalogue. Crosses, Icons, Hinged Icons by Gnutova, E. Ya. Zotova.