SOLD Antique 19th century Qing Dynasty Chinese woman's yellow silk skirt, QUN (Semiformal Paired Aprons)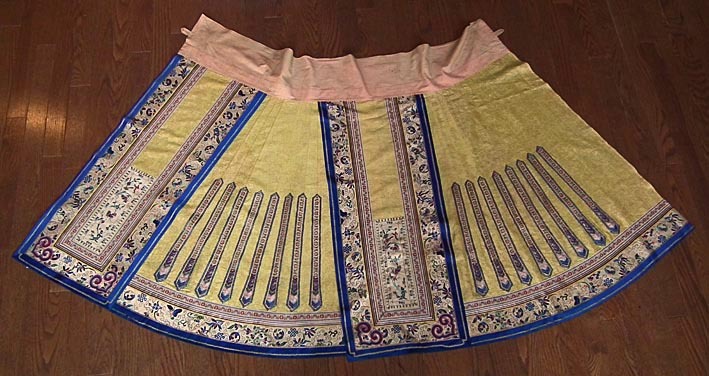 SOLD Superb quality Antique 19th century Qing Dynasty Chinese woman's yellow silk skirt, QUN (Semiformal Paired Aprons) , constructed of a sewn together several yellow silk strips, gauzily woven with precious Buddhist and Taoist emblems and auspicious motifs including double gourds bats.The front and the back applied with white satin panels finely embroidered with multi-colored flowers, flying butterflies and precious auspicious motifs, highlighted with embroidered metallic thread scrolls and bordered in ribbon delicately woven with flowers. With its original cotton waistband and backed with panels of red silk lining trim.
DIMENSIONS: Approximately, when placed flat: Width (distance of bottom, corner to corner): 170 cm (67 in). Length: 89 cm (35 in),
CONDITION: The skirt generally is in good condition considering its age, and the material from which it is made, showing the age and usage with a few spot of dirty marks, small tears on the edges and discoloration of the red silk lining trim; however, this can be professionally stitched. We do not perform any repairs or restorations on our antiques. There are no holes or applied patches. Please note that this is an antique over 100 year old textile, which was well used, so a perfect condition cannot be expected.
REFERENCES:
(1)Chinese Women's Skirts of The Qing Dynasty. Mary V. Hays
(2) Imperial wardrobe by Gary Dickinson, Linda Wrigglesworth
(4) Imperial Silks: Ch'ing Dynasty Textiles in The Minneapolis Institute of Arts by Robert D. Jacobsen
(5)"Silks for Thrones and Altars" by Myrna Myers
(6) "In The Presence Of The Dragon Throne" by John E. Vollmer
(7) "When Silk Was Gold" by James C.Y Watt & Anne Wardwell.
This skirt comes from an old Canadian collection of Oriental Art, including many Chinese robes and related items which we are in the process of photographing and placing for sale for the first time.
Due to the fact that the market is flooded by reproductions of Chinese costumes and vintage theatrical costumes which for inexperienced collectors look the same, we would like to inform our clients that this is a 100% authentic antique over 100 years old Chinese Qing Dynasty skirt and not a reproduction, and is accompanied by a Certificate of Authenticity.