SOLD Antique 19th century French Cavalry Cuirassier Armor Cuirass Breast plate & Back plate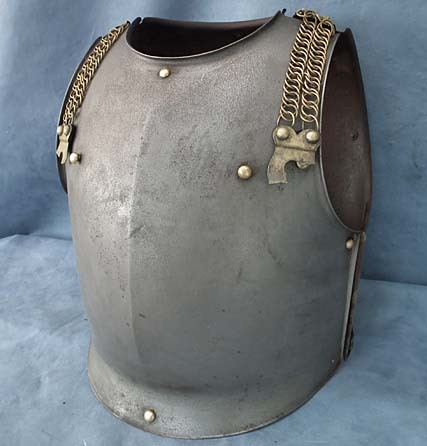 SOLD Antique, 19th century, French cavalry cuirassier armor, cuirass breast plate and back plate: The breastplate formed of thick steel with a medial ridge and flanged out at the base, fitted with a pair of brass studs at the front for the attachment of shoulder straps, adorned on the perimeter with six domed brass rivets: The back plate formed en suite with the breastplate with six domed studs and a double row of interlocking brass chain rings, and shoulder straps. The base of the breast plate signed illegibly in the interior by the maker. Breast plate and back plate stamped with numbers and other stamps.
CONDITION: The exteriors with light surface pitting. The interiors with dark brown surface rust, brass key plates of shoulder straps broken.
DIMENSIONS: Height, approximately: 41.3 cm (16 1/4 in).
WEIGHT, approximately: 8.62 kg (19 pounds).