SOLD Antique 19th Century Imperial Russian Silver-Gilt Icon Vigil Lamp Lampada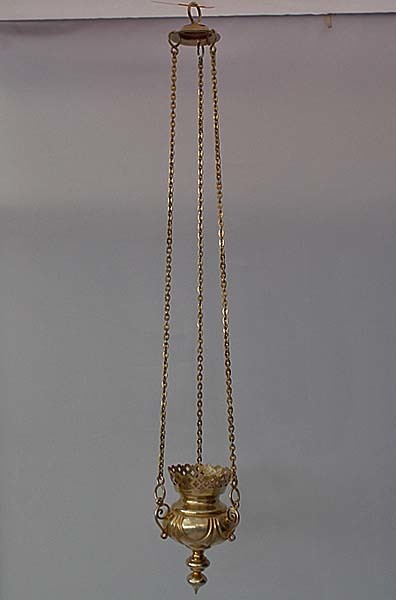 Antique 19th century dated 1885, Imperial Russian Silver-gilt icon vigil lamp Lampada.
The lobed ovoid body of traditional form with pierced crown, mounted with three spiraling chain loops, suspended from three chains.
The lamp is fully hallmarked with Jeweler initials Cyrillic DM' for Mahalov Dmitry Vasilyevich, (1885-1897). Imperial Russian Moscow assay office marks "84" zolotnik standard, St George and the Dragon (coat of arms-of the city of Moscow) and the assay master's mark "AP" in Cyrillic "AR," over 1885 date. The chain loops marked with "84" zolotnik, St George and Cyrillic initials.
Overall length with suspension chains: 44.5 cm (17 1/2 in.)
Body: 9.5 cm (3 3/4 in.)
CONDITION: in very good condition; no dents, repairs, or restorations.
WEIGHT: 113 grams. (3.99 ounces)
REFERENCES: Mahalov Dmitry Vasilyevich is listed as the Jeweler and the maker of another Lampada lamp in the Russian book "Russian Gold and Silverwork 15th 20th Century" by M.M.Postnikova –Losseva N.G.Platonova, B.L.Ulianova Page 214. No 2418.