SOLD Antique 19th Century French Presentation Sword With Gold Gilt Lion Hilt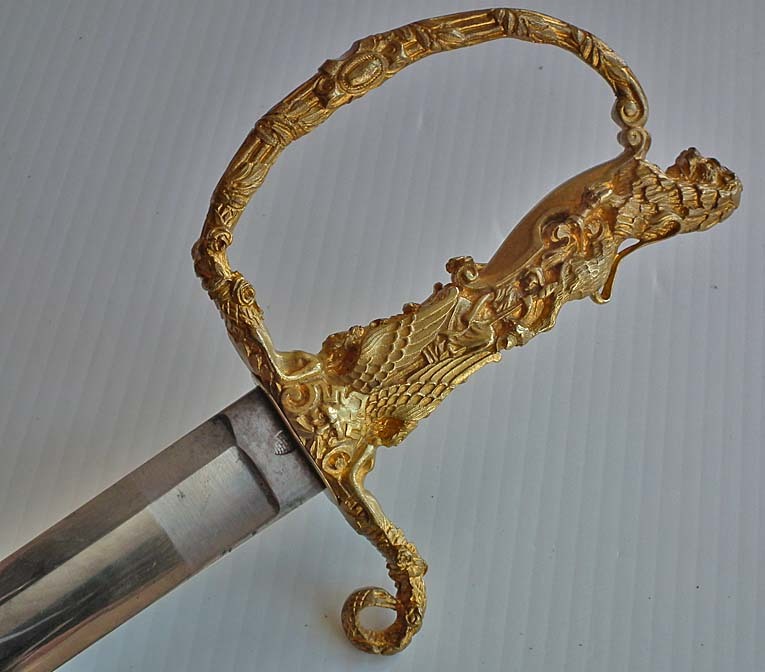 SOLD An Antique mid-19th Century French Presentation sword, of superb quality.
Details: Gold gilt brass hilt cast in low relief, and finely hand chiseled, comprising a knuckle – guard in the form of the two winged sirens, flanked by the green man masks, the grip adorned with acanthus lives with the upper part in the form of the rampant lion with the belly covered by a vacant shield, holding by his front paws the stirrup-guard. Slightly curved sturdy single -and false-edged steel blade with its original polish, cut with a wide full – length fuller, stamped on the ricasso with a maker's mark in the form of the shield. In its leather scabbard mounted with a large brass chape engraved with acanthus lives, adorned on the shoe with neoclassical masks, locket engraved with acanthus lives en suite with the chape, the frog button cast in the form of the lion head.
CONDITION: The sword is in good condition considering its age. The lower part of the leather scabbard near the brass chape repaired, split on the stitching below the locket, otherwise in good condition.
MEASUREMENTS: Overall length with the scabbard: 84 cm (33 inches). Length without the scabbard: 80.5 cm (31 5/8 inches).
REFERENCES: A similar sword is published in the Czerny's International Auction House Catalog. Fine Antique Arms and Armour. March 29, 2014. Lot 425.Estimated Price:€1,500 - €1,800. Sold for €2,000.
Please see the links below:
Realized Price:
http://www.auctionzip.com/aflive.html?method=getLotInfo&lotref=5E58412557&seq=425