SOLD Antique 19th Century Chinese Embroidery Qing Dynasty Embroidered Satin Silk Panel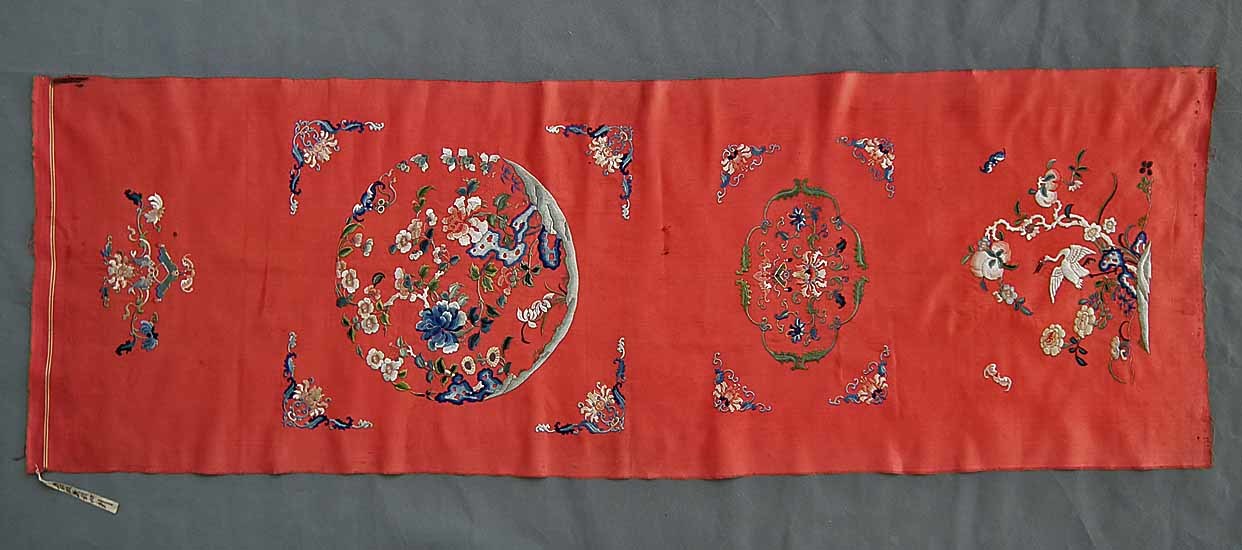 Antique, 19th Century, Chinese Embroidery, Qing Dynasty, rectangular silk panel finely hand embroidered, in multicolored satin silk floss stitches, with flowers, bats, and a heron. The back has glued to the fabric a square paper label with hand written in white and black Chinese characters, and another narrow paper label with Chinese writing on both sides attached to the corner of the panel.
CONDITION: In good condition considering its age, and the material from which it is made, showing the age and usage, one small hole, some spots of stain marks, partial age related wear.
DIMENSIONS: Approximately, when placed flat: Length: 164 cm (5 feet and 4.5 inches) Width: 55 cm (21.65 inches).
REFERENCES: Imperial Silks: Ch'ing Dynasty Textiles in the Minneapolis Institute of Arts by von Robert Jacobsen.
PROVENANCE: This embroidery comes from an old Canadian collection of Oriental Art, including Chinese embroidery and related items, which we are in the process of photographing and placing for sale for the first time.
Due to the fact that the market is flooded by reproductions of Chinese textiles, which for inexperienced collectors look the same as the authentic antique textiles, we would like to inform our clients that this is a 100% authentic antique, Chinese Qing Dynasty item, and not a reproduction, and is accompanied by a Certificate of Authenticity.