SOLD Antique 18th century Russian Orthodox icon The Virgin of the Burning Bush Neopalimaya Kupina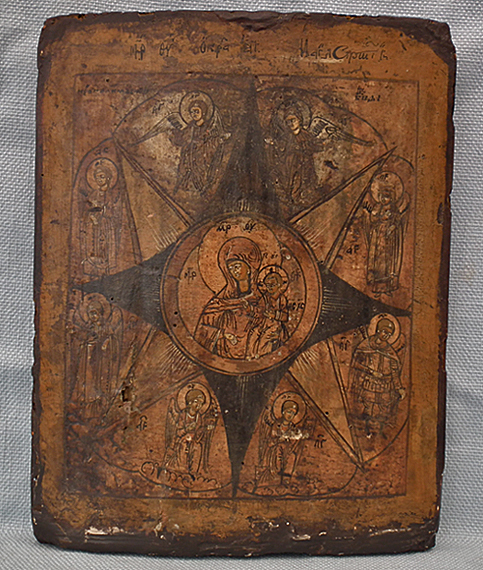 SOLD Authentic Antique, 18th century, Russian Orthodox icon, The Virgin of the Burning Bush (Neopalimaya Kupina). The Icon is traditionally finely hand painted in tempera on a gessoed wood panel with two inserted slats on the top and bottom The Mother of God and the infant Christ is depicted in the center of the eight-pointed star, surrounded by angels and archangel, with Cyrillic letters on the hallow, the top of the icon is also inscribed in Cyrillic alphabet.
MEASUREMENTS: 30 cm x 22.5 cm (11 3/4 in x 8 1/6 in).
CONDITION: The icon is in its original condition with an old patina and wear, some flakes in gesso and paint, with some old restoration on borders.