SOLD Antique 18th century Enamelled Islamic Ottoman Turkish Damascus Steel Sword Shamshir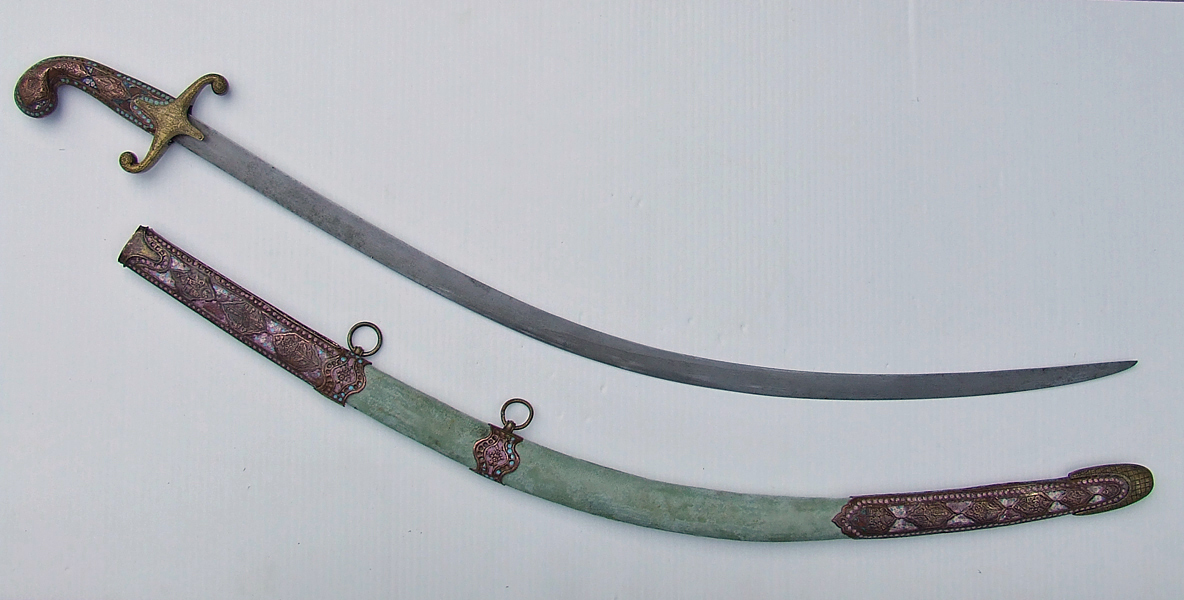 SOLD Extremely rare, enameled Islamic, Ottoman Turkish sword - Shamshir, probably late 18th century, however, a comparable Turkish enameled sword, published on the internet, is dated to the 17th century, (please see the Link attached to the listing).
Details: A curved, single edged, Damascus steel blade with a slightly visible water pattern of Turkish ottoman Damascus steel. In its wooden scabbard, bounded in pale celadon color, velvet fabric. The copper grip and the scabbard mounts repousse and chased in traditional Turkish manner of elaborate shaped panels containing images of mosques with minarets, flowers and panoply of arms and armor. The panels are enclosed by pink, blue and white enamel. The gold gilded brass," S" shaped, cross guard is also engraved with the design of a mosque and scrolls.

The enameled Islamic swords are rare, those existing in museums and private collections are of Persian, or Indian origin. Enameled Turkish Swords are extremely rare and they, almost only, exist in museums and private collections, they also are not in the Robert Hales collection published in the book; Islamic and Oriental Arms and Armour: A Lifetime's Passion by Robert Hales.
The buyer will be provided with a copy of the page from the mentioned reference together with a certificate of authenticity.
A Comparable Enameled Turkish Ottoman sword is posted on the interned by gettyimages, (please see the links below).
http://www.gettyimages.ca/detail/photo/kilij-with-scabbard-in-steel-gold-copper-high-res-stock-photography/163241634
http://www.gettyimages.ca/detail/photo/kilij-with-scabbard-in-steel-gold-copper-high-res-stock-photography/163241633
So, we managed to find only 2 Enamelled Turkish Ottoman swords, making this particular sword an Extremely Rare example, compared to the other ottoman swords.
Condition: Showing the age and usage, the gold gilding on the cross-guard worn, the copper fittings of the scabbard and the copper grip are with some dents, with loses to the enamel, blade with four minor nicks on the edge, the velvet, most likely a leather replacement, is worn and stained. All of this can be an aspect from an antique sword, considering that its age to be over 200 years old.
Colors may differ slightly with items in pictures, due to lighting conditions, and color settings of different computers.
MEASUREMENTS:
Overall length with the scabbard: 94 cm (37 inches).
Overall length without scabbard: 90 cm (31.26 inches).
Length of the blade: 76.4 cm (30.08 inches).